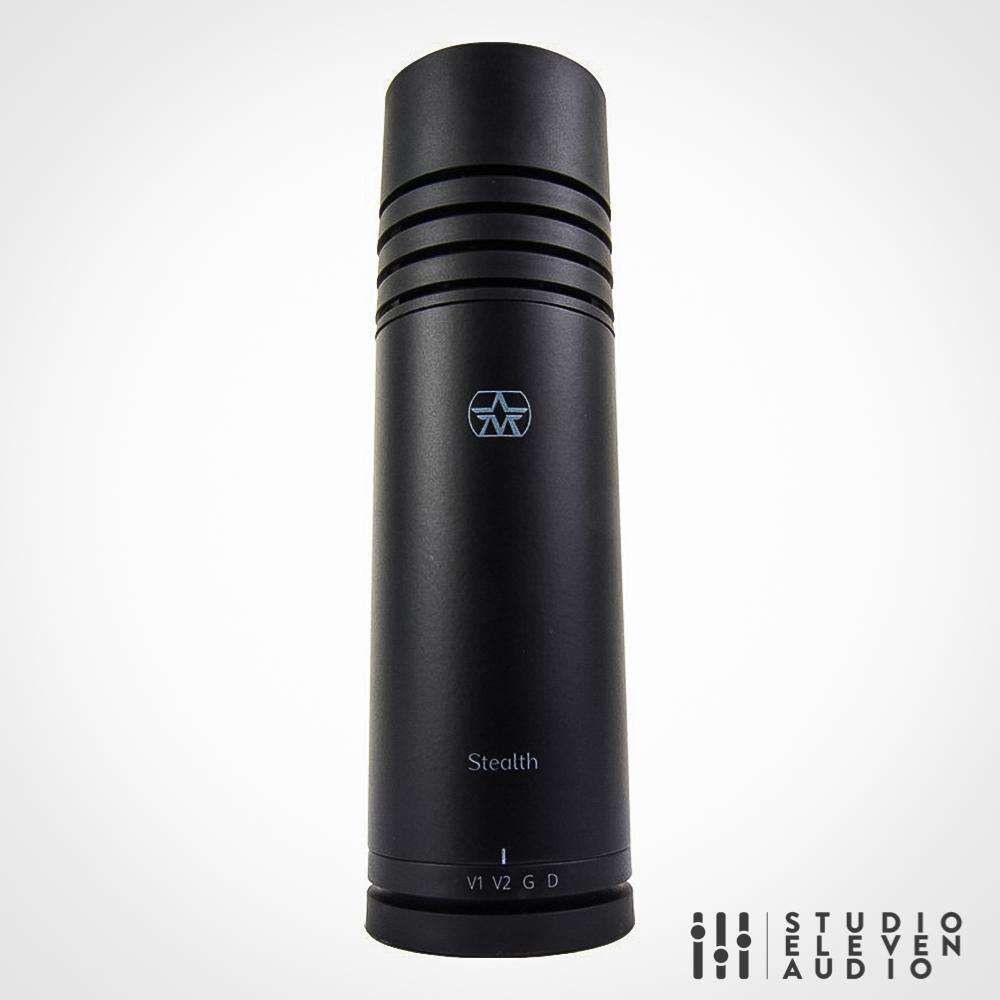 The Aston Sound
Right from the start of 'project Aston', we engaged with some of the top audio professionals in the industry to create a development panel to be our ears, while we focussed on perfecting every tiny detail in our mics, to finally produce what we believe to be the very best products in their class. Read more about.
Four Settings, Four Different Voices
Think of Stealth as four professional microphones in one. Each setting has been voiced by a panel of more than 90 top flight audio engineers and producers on the Aston 33 panel through a series of double-blind listening tests, beating not only every mic in its class, but some far more expensive 'industry standard' mics.
There are 2 vocal settings, optimised for different vocal tones, a guitar setting which is equally suited to Spanish guitar, Electric guitar cab and steel string acoustic, and a dark, vintage setting, reminiscent of classic ribbon mics.
Mics which apply 'flattering' - but destructive - pre EQ make professional post-processing almost impossible. Stealth, however, provides a choice of four pure, high quality signal paths. The voice settings are not EQ filters, they are contour networks, meaning the bulk of the signal does not pass through any sort of filter circuitry. The whole signal is slightly attenuated, with some frequencies being added back in at a higher level. This results in much lower phase distortion than conventional filter designs.
Active & Passive Modes
Stealth works with or without 48V phantom power. In passive mode (unpowered) the active circuit is completely bypassed and Stealth operates with the simplest possible signal chain to give a beautifully clean sound.
A unique (world's first!) built-in Autodetect function senses the presence of 48V phantom power and will automatically switch the mic to active mode to utilise the onboard class A mic Pre.
In passive mode Stealth behaves just like a stage dynamic mic and will handle pretty much any levels you can throw at it; screaming vocals, maxxed-out guitar cabs, even drums.
Engage active mode and there's a massive 50dB gain lift giving you all the headroom and sensitivity of a studio condenser; back off just a little for smooth vocals, spoken word and acoustic instruments, or get close-up and personal for breathy intimacy and crystalline detail.
If you want to get loud and gnarly… back it off baby!!! You should leave the same sort of distance for loud source mic placement as you would a condenser mic without a pad… about 30 cm in most cases.
Built-in Class A Mic Preamp
When in active mode Stealth features a high quality built-in Class A Mic Pre, dispensing with the need for an expensive external gain lifting device.
Stealth features a fully balanced signal path from capsule to output, yielding a superior reduction of 'Common Mode' noise compared with single-ended (unbalanced) designs.
Unique Sorbothane Internal Stock Mount
Aston Stealth includes a proprietary internal shock mount design with the capsule suspended in mid-air, completely isolated from the mic chassis, and supported at 3 points by Sorbothane polymer hemi-spheres.
Sorbothane is a synthetic viscoelastic urethane polymer used as a vibration damper and acoustic shield used in computing, hi-fi and many industrial applications.
Exceptional Side Rejection
Stealth's acoustically tuned headstock provides a highly focused cardioid polar pattern with enhanced off-axis rejection.
Custom Stand Mount
Yet another unique design element of the Aston Stealth is the use of custom moulded end caps with integrated XLR and a special design quick release stand mount. An included stand mount allows you to simply click the mic into place, and release it just as quickly for storage, and can angle the mic perfectly for any application.
Eco-Friendly Packing
We have put our hearts and minds into creating the most beautiful performance pieces possible with each Aston product. When it comes to packaging we believe simplicity is king. Protective, re-useable, environmentally sensible packaging that doesn't cost the earth.
Aston Stealth
AST- STEALTH