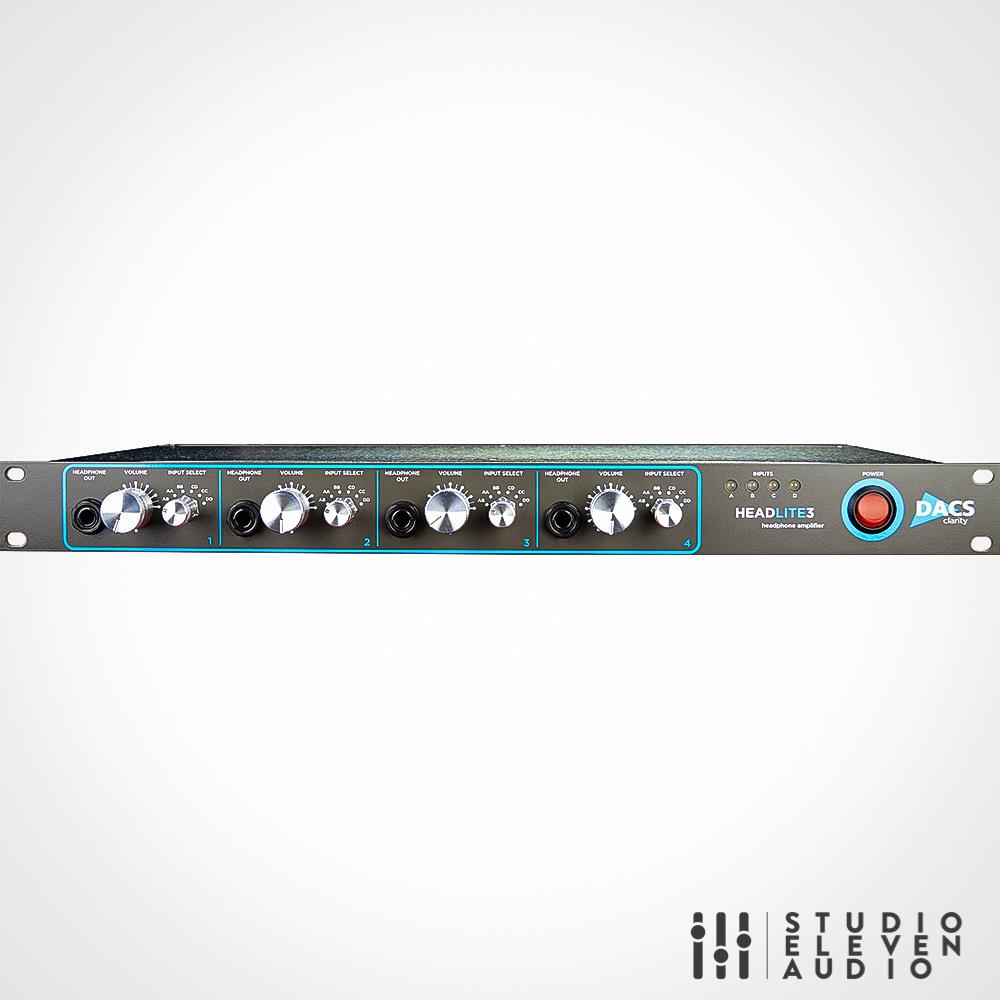 Clarity and Sound Quality: Whatever the headphone task the quality of the final result begins with whatever you can hear in your ears. Accuracy is essential and any shortcomings will inevitably affect the result.
Power: Amplifier power is not just about level (sound pressure level) it is about clean level (sonically pure level). A good headphone amp should be `cruising' for the whole of its useable range.
Flexibility: You will need to drive more than one set of headphones with more than one mix. A good headphone amplifier will provide multiple outputs – with individual amplifiers – and a choice of inputs.
DACS' Clarity HEADLITE 3 scores top marks in all of the above.
DACS' Clarity HEADLITE 3 which, like all DACS Audio Products was designed in the field by working engineers and developed in the labs by industrious boffins, scores top marks in all of the above: Excellent Clarity and Sound Quality is ensured by the design of the amplifier which produces very low distortion and an extended and flat frequency range
The Power of the output on the standard channels is more than sufficient to drive any headphone of any impedance, and special higher power channels can be specified to drive multiple headphones without loss of volume.
And the Flexibility is provided by four bussed inputs selectable in combination on each of the four stereo output amplifiers and eight physical outputs.
The standard channel amplifiers of HEADLITE 3 have power to spare – 125mW RMS into 150 Ohms – and each will easily and cleanly drive 400 Ohm headphones at possibly unwise maximum output levels. HEADLITE 3 is also fitted with one high power channel for driving multiple headphones – in tests six 400 Ohm headphones were powered with no loss of level (additional channels can be specified with order or retro-fitted) – and has overall power output of over 200mW RMS into 600R.
Outputs for each channel appear on both the front and rear of the unit, and are able to drive long audio lines to remote headphone outlets such as in vocal booths or over-dub rooms. For each of the amplifiers, users can select from the four inputs (A, B, C and D) to hear A and B, or C and D as stereo, and A, B, C or D as mono. This means, for example, that two different submixes could be sent to the HEADLITE from the mixer aux outs to suit two different purposes: the drummer and the singer might well need to hear different balances in their headphone feeds …
HEADLITE 3 offers excellent signal to noise ratios, low cross talk, very low distortion and a bass response that is flat down to well under 20Hz. The unit's frequency response (-0.5dB at 3hz to 35kHz) is substantially flatter (within 0.1dB over the 22Hz to 22kHz band) than its predecessor, thus offering improved fidelity. Because of the design of the amplifier's output stage, its high frequency response does not suffer significantly, even down very long lines.
As such, HeadLite3 delivers all the features recording professionals need in a rugged and reliable package that will last for many years.
DACS Clarity Headlite 3
DACCLARHEAD3