Dangerous Music Convert-2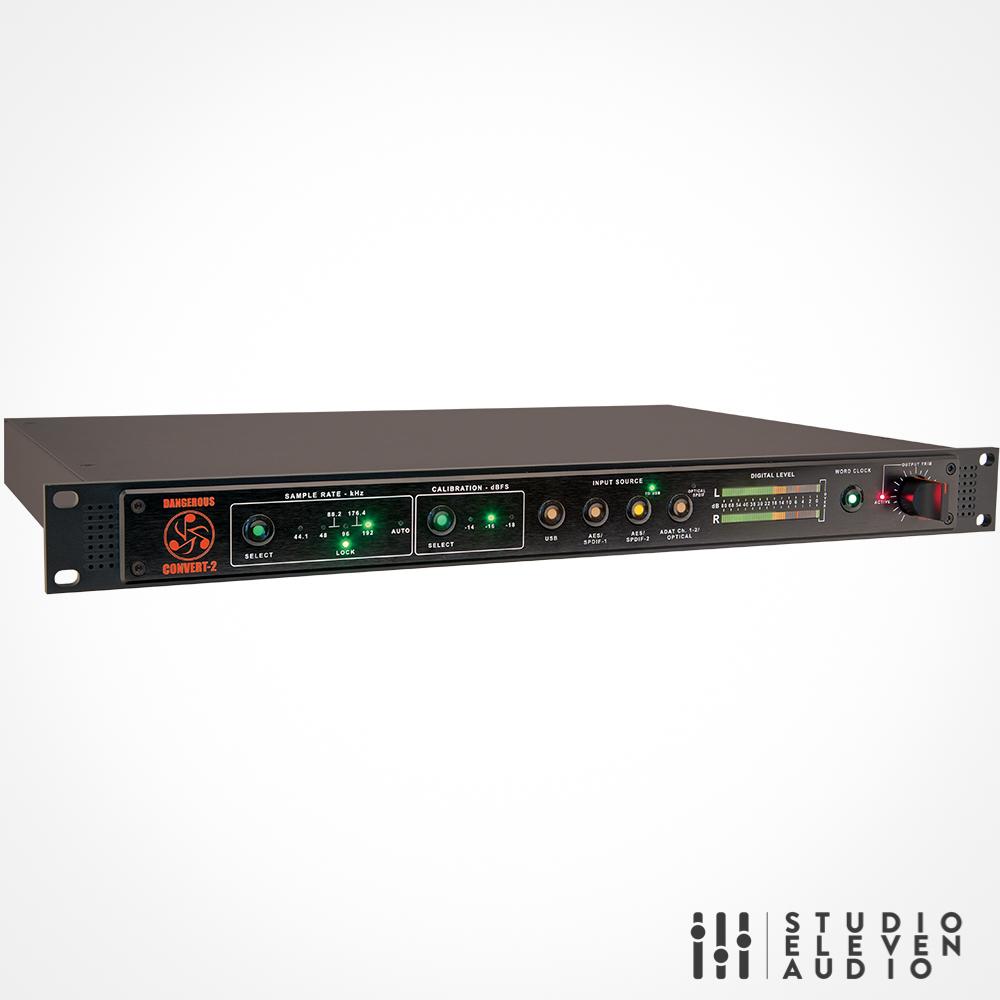 AN UNRIVALED FEATURE SET
Our design philosophy includes a strict demand that our equipment be elegant and easy to use, and the CONVERT-2 exemplifies that philosophy. No menus, no cryptic multi-finger combinations to remember – just clearly labeled single-function buttons and one volume knob. However, the elegance of the CONVERT's front panel belies its rich feature set, which brings a level of versatility not found in any other DAC.
Dedicated Volume Control With Hard-Bypass – If you ever need to bring down the output level of the CONVERT-2, just turn the knob. When fully up, the volume control is bypassed for feeding a dedicated monitor controller (such as our Monitor ST). When engaged, the volume control lets you achieve exact output levels for many applications, a useful one being sending the analog outputs directly to a set of speakers and using the CONVERT-2 as a monitor controller.
Instant Input Calibration – With industry-standard reference levels of -14, -16 and -18dBFS, you can recalibrate the CONVERT-2 with the push of a button. While many professional converters are only aligned at the factory, the Convert lets you move flexibly between different reference levels on the fly. Anyone who's ever fumbled around behind a rack with a "tweeker tool" while a second person watches an external meter knows the special value of our front-panel calibration buttons.
Automatic Sample Rate Detection – Simply select "Auto" on the front panel and the CONVERT-2 will match its sample rate to the input signal. If you've ever started working at the wrong sample rate (we've all done it!), you'll know why this feature can be so important. If you're swapping among different DAW sessions at different sample rates, the CONVERT will follow your every move.
On The Fly Input Switching – Unique to the CONVERT, you can now swap between multiple digital inputs on the fly from the front panel buttons. No more digging into elaborate menus and system settings just to listen to iTunes, no more rerouting software drivers just to hear a different output. And because the CONVERT can automatically lock to the incoming signal's sample rate, you don't need to even think about sample rates as you switch between inputs. Five digital inputs include USB, AES/SPDIF-1, AES/SPDIF-2, ADAT and Optical SPDIF (TOSLINK).
USB Uplink – With its unique USB Uplink technology, you can route the CONVERT's AES/SPDIF-2 signal back up through the USB cable and into your DAW session for printing. Additionally, you can easily switch between monitoring the original digital signal or the Uplinked signal, which means you can add finalizing plugins to your DAW's return track and quickly flip between the processed and unprocessed stereo signal – especially helpful whether mixing or mastering.
Custom Metering – Our premium custom crafted digital meter gives you peak-over-average metering, typically found in expensive outboard mastering meters. The meter automatically calibrates to the chosen input reference level, giving you consistent visuals on every project. Our "3-word-over" indicator tells you when three consecutive samples have clipped, meaning you're a breath away from violating industry standards for CD reproduction and are about to generate clipping distortion that would be audible in any digital file.
Use The CONVERT As Your Master Clock – It's no secret that many digital audio systems are slaved to the best sounding clock in the rack, and The CONVERT's customized JetPLL ultra-low jitter technology is winning shootouts again and again, sending expensive external clocks into retirement. Simply use the Word Clock output and set the CONVERT into Master mode from the front panel, and all the digital gear in your studio can benefit from The CONVERT's cutting-edge digital technology.
Monitor ST Connectivity – Simply connect the CONVERT-2 to your Monitor ST to bring remote control of the CONVERT's digital input switching to your fingertips right from the ST Remote. By incorporating the CONVERT into your existing Monitor ST rig, you're seamlessly adding today's best DAC to your monitoring system.
SACRIFICE NOTHING.
If you're ready for the world's most articulate, open and natural sounding dedicated stereo DAC, The CONVERT-2 will deliver the beautiful truth of all your digital signals into the analog realm without ever tiring you out. Contact a dealer to hear the difference and we're pretty sure you'll become a CONVERT.
Dangerous Music Convert-2
DANGCONV-2