Dangerous Music Convert-AD+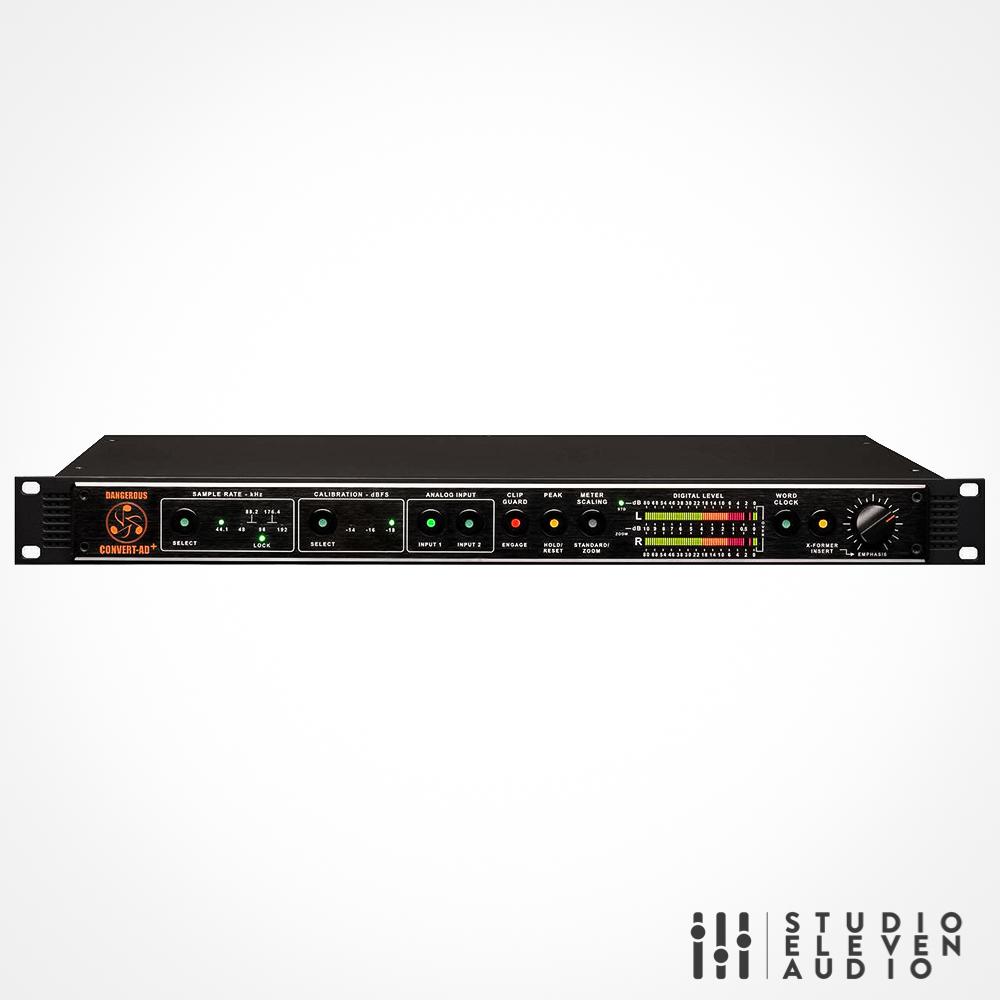 5 INNOVATIVE FEATURES YOU DIDN'T KNOW YOU NEEDED
The CONVERT-AD+ has no fewer than five—five!—features previously never seen on an analog-to-digital converter before. Smart, useful, well-executed innovations put Dangerous Music on the map, and we continue that tradition into the 21st century with the CONVERT-AD+.
INNOVATION #1—SWITCHABLE DUAL INPUTS
Simple, elegant, intelligent. With the push of a button, you can switch between any two balanced line input sources. With zero fuss, you can instantly compare different mastering chains, test your mix against a reference, or to switch between recording and mixing mode—or use the inputs in any configuration you dream up. From the largest mix rooms, to elite mastering suites, to your home studio, the switchable inputs on the CONVERT-AD+ is about to make everyone's life a lot easier.
INNOVATION #2—PROPRIETARY CLIP GUARD TECHNOLOGY
Do you dig pushing the A/D beyond 0 dBFS, into clipping, for specific sonics? Clip Guard will turn off the red light LED at your destination (i.e. DAW). Red indicates clipping on most meters, in actuality, the over indicator in the AD+ turns from green to yellow. Now "Mastered for iTunes" or the CD pressing plant will not reject your opus, since these red light overs will not appear. This is not a limiter. If you can hear clipping and engage clip guard, it will sound identical. It simply disables the clip LED in your DAW or destination device, but you will still be audibly clipping.
INNOVATION #3—ZOOMABLE METERS
In most circumstances, the dynamics of a mix or master reside in the zone between the average and the peak levels. With our meter zooming technology, you can zoom in on just the top 10dB of dynamic activity, allowing you a fine-grained look at what that matters most when mixing and mastering. An incredibly helpful tool for nuanced crafting of dynamics, you'll soon wonder how you ever lived without zoomable meters.
INNOVATION #4—SWITCHABLE TRANSFORMERS
It's no secret that a pair of transformers at the end of a mixing or mastering chain can give your final prints added heft, character and articulation. With the CONVERT-AD+, just push a button and you've got a pair of Hammond transformers wired in series, ready to do that magic that transformers do. Hammond is a Canadian company with over 100 years of transformer design, and our circuit brings out all the bold colors.
INNOVATION #5—EMPHASIS CONTROL
Our analog designer Chris Muth did it again, taking his deep and esoteric knowledge of what engineers love and turning it into a simple and effective tool. When the transformers are switched in, the Emphasis kicks in a proprietary EQ/compression combo that brings a whole pallet of different colors to your mixing, mastering, and tracking work. Simply dial in the right amount, or none at all, until the smiles in the room get wider. In most cases, you'll notice a stronger low end footprint and a gentle saturation on the mids and highs. The more you play with it, the more you'll learn how Emphasis can improve your music.
Dangerous Music Convert-AD+
DANGCONV-AD