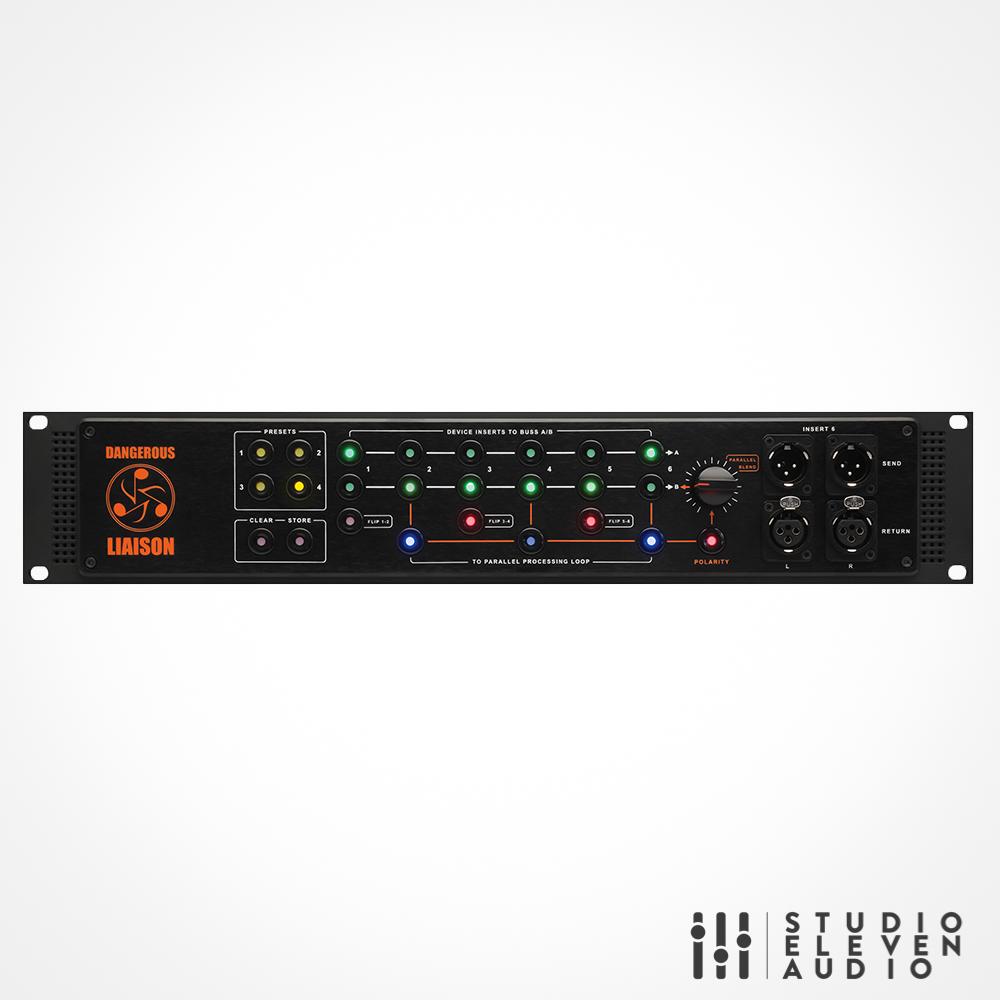 COMPLEX PATCHING MADE EASY…AND PROGRAMMABLE!
With the LIAISON, previously complex patches of analog equipment are made simple, and they can be instantly recalled with the sophisticated, yet elegant, signal routing and user interface.
Six Insert Loops – The topology of the LIAISON is built around six high-grade stereo insert loops, each of which can be switched in and out of the signal path at the touch of a button. Use the "Flip" switches to reverse the order of inserts 1&2, 3&4 or 5&6, allowing for immediate auditions of new routing possibilities (compress that EQ, or EQ that compressor?).
Two Main Busses – Two main stereo busses (A & B) allow you to route different analog gear chains simultaneously. For example, plug your mic pres into the input of Buss A and keep your favorite EQs and compressors ready for tracking while your favorite stereo mix buss processors live on Buss B. Or perhaps route your drum stems to Buss A, while simultaneously routing your entire stereo mix to Buss B. For even greater versatility, chain Buss A and B together!
[Click here to watch a video of this configuration.]
Parallel Processing Loop – Send any combination of gear to the LIAISON's onboard parallel processing loop, allowing latency-free blending of the processed and unprocessed signals. Parallel processing is standard practice today, but in the analog realm often requires a large format console and patchbay. With the LIAISON you can switch between in-series and parallel patches at the push of a button, and then blend to taste! Slam that buss-compressor and bleed in just a bit for sustain and edge. Put an extreme EQ curve on a vocal and blend it into the main signal to create urgency and articulation. Whatever you dream up, the LIAISON's parallel buss will open up a whole new realm of creative uses for your analog gear. There's even a polarity reversal button for the parallel processing loop, allowing you to correct phase or use phase cancellation creatively for various results.
Four Monitor Channels – Each of the two busses can be monitored before or after the insert loop, allowing you to hear the results of your inserted processing on either buss instantly. Intelligently routing these four monitor channels in your studio will open up all kinds of uses that minimize patching work and maximize your ability to make fast, reliable comparisons.
Programmability – Once you've got a patch you want to keep around, store it on one of the four program channels for instant recall. Thinking creatively, you can use the two busses to accomplish any number of elaborate patches for tracking, mixing and mastering that you can recall effortlessly.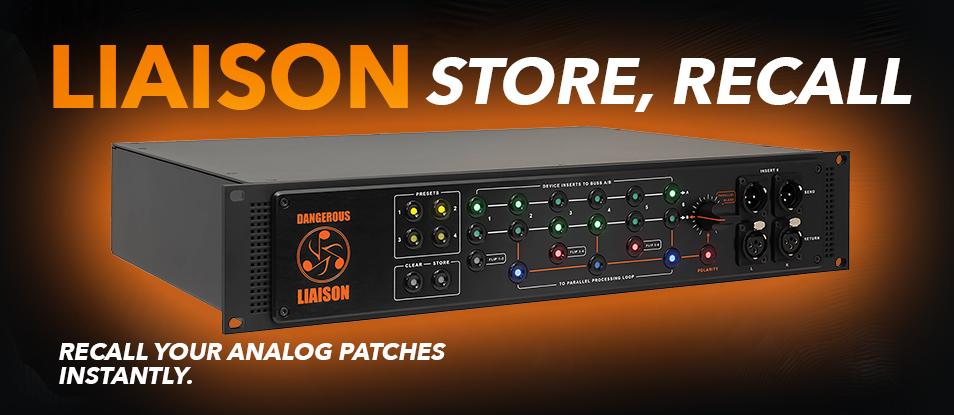 Dangerous Music Liaison
DANGLIAISON