Drawmer CMC3 Monitor Controller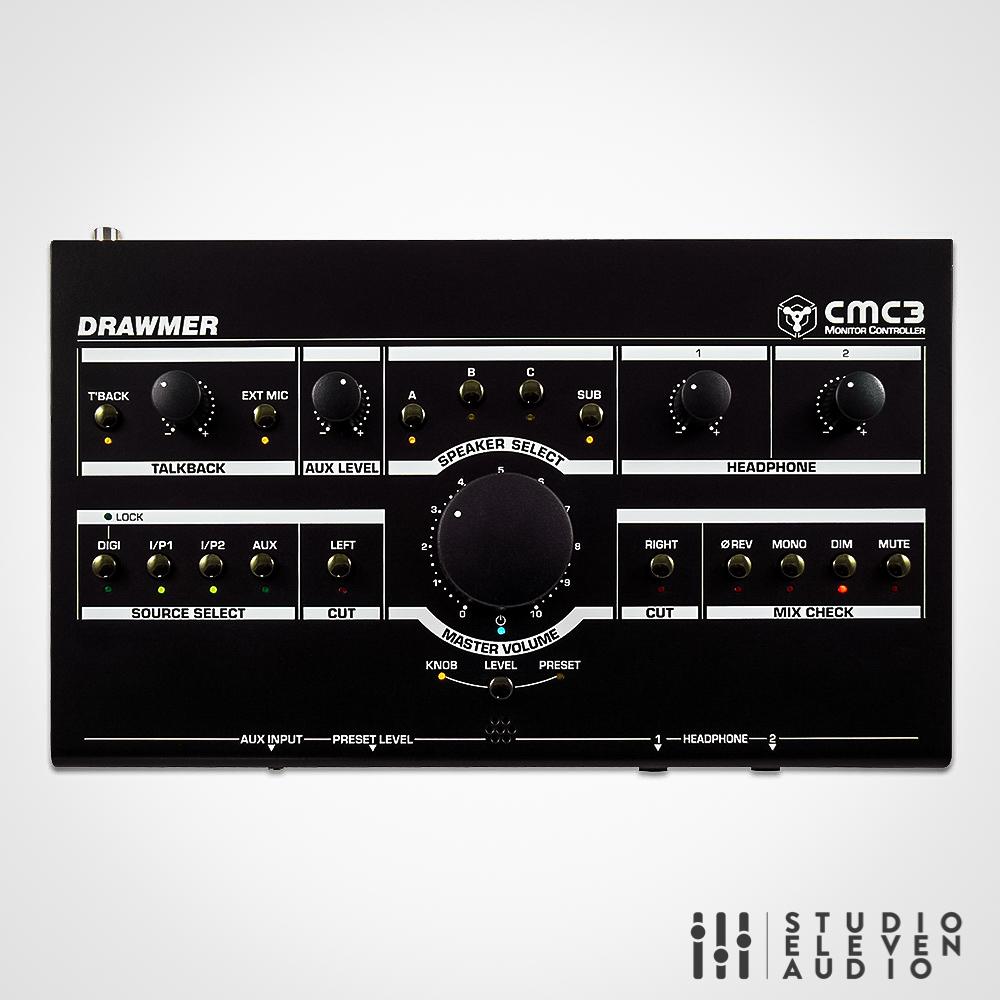 Accurate & Transparent
With the same Drawmer pedigree as the MC2.1, the CMC3 circuit is just as transparent and accurate. It has been designed to remove the limitations that a passive circuit brings, such as the ability to increase the volume for quiet passages and improved mix checking, without adding the artifacts that lesser quality active circuits introduce. 
You hear exactly what you've recorded!
Precision
The CMC3 supports 3 sets of stereo monitors, plus a dedicated mono speaker/sub-woofer output, each can be switched individually and simultaneously and in any order, especially useful for A/B comparisons. You can listen to multiple speakers with the same sub-woofer, or turn the sub-woofer off altogether. 
The volume control utilizes a parallelled custom quad pot for excellent channel matching and smooth feel, as does the secondary preset volume control on the front. This provides repeatable calibrated output level for the monitors, so that at the flick of a switch the engineer can hear the mix at the same predetermined volume, time after time, without having to meticulously adjust controls.
Multiple Connections
The CMC3 is very well connected with 4 stereo inputs in total: 1x SPDIF digital input (24 bit/192kHz), using the same DAC chipset as our established MC3.1 monitor controller, 2 stereo balanced jack inputs, plus a 3.5mm jack with variable level control for your Smartphone/MP3 Player.
In addition, it has a 2 professional quality headphone outputs with a separate amplifier and level control, that provide the same audio quality and mix checking as the CMC3 does through the speakers. Talkback is also included with internal or external microphone, level control and audio routing to a dedicated mono output jack & headphones.
Advanced Mix Checking
The comprehensive mix checking facilities of the CMC3 include dim, mono, phase reverse, left and right cut as well as an easy access mute switch, allowing you to check the quality of your recordings: tune into your mix to hear any unwanted artefacts, test the effectiveness of the stereo mix, check for phase cancellation, listen to the stereo difference. Features that many monitor controllers lack.
Compact
The CMC3 packs a lot of features into a small unit. The whole package is presented in a very low profile desktop enclosure of just 3.5cm high with a footprint of 27x16cm (10.5"x6.5"x1.4").
Tough & Secure
Whilst being smart and stylish the rugged, all steel enclosure will withstand the knocks and bumps of the studio, and, coupled with the high quality components used, the CMC3 is built to last. In addition, a Kensington security slot provides protection from thieves.
Drawmer CMC3 Monitor Controller
DRAWCMC3