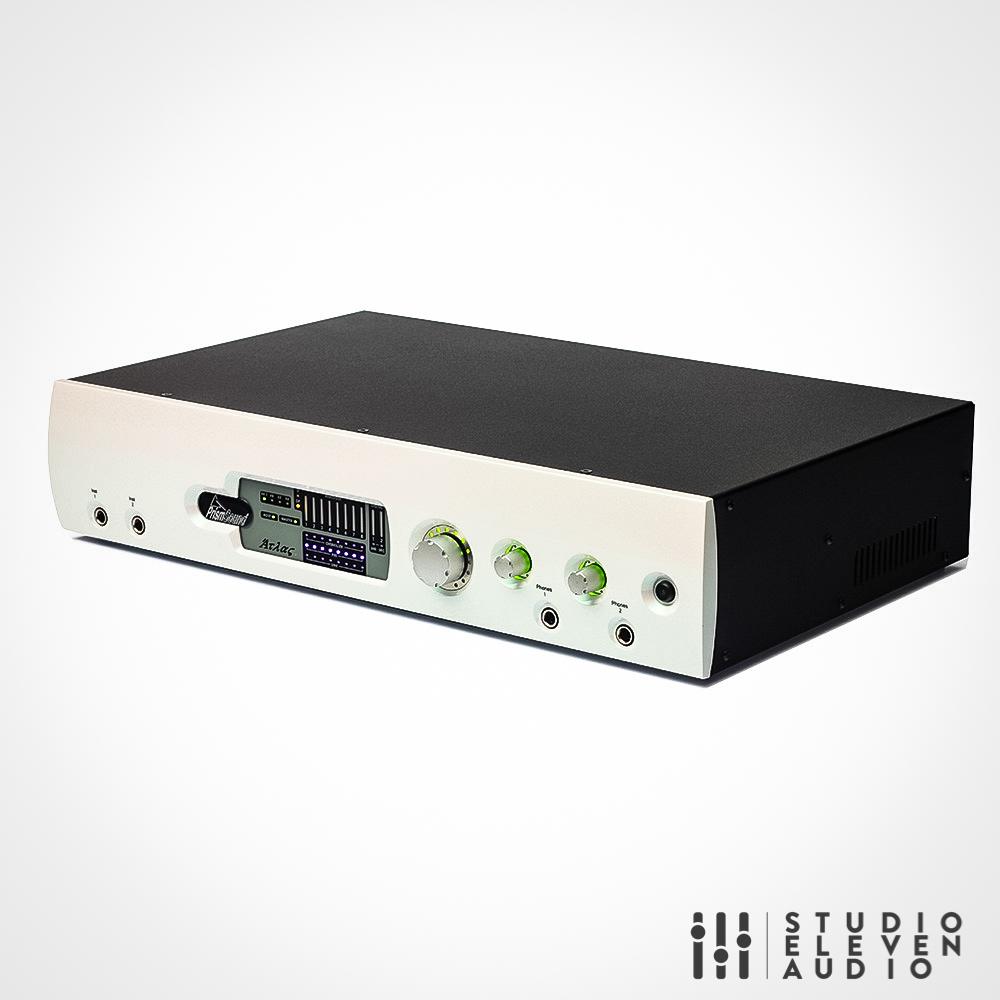 Signal path
Atlas provides Prism Sound's renowned performance, sound quality and state-of-the-art clock technology in a dedicated unit compatible with both Windows (Vista and higher, 32 and 64 bit) as well as Mac OS X 10.5 and later (Intel). Once configured with a computer, Atlas can also operate stand-alone using its ADAT, S/PDIF or AES3 I/O. 

Eight analogue input channels and up to 10 digital input channels are available as inputs for your audio workstation software through the host computer's audio driver. Similarly, eight analogue output channels, up to 10 digital output channels and stereo headphone outputs can play 20 different channels. For low-latency foldback or monitoring to headphones or main outputs, each output pair (1-2, 3-4 etc or the headphone output) can optionally be driven from the built-in DSP mixer with an individual local mix of any selection of inputs through the controller applet. All analogue inputs are electronically balanced with automatic unbalanced operation. Analogue outputs are electronically balanced with 'bootstrapping', i.e. level is maintained if one leg is grounded.
Multichannel Digital Input and Output (MDIO) expansion
Atlas & Titan support Prism Sound's MDIO expansion cards, which provide alternative "host" connections. The "host" is usually a computer and the Atlas or Titan interface provides a means of connection between the host and the external analogue and digital audio I/O ports.
Without the MDIO expansion card fitted, the host connection would always be the default USB connection.
The MDIO expansion slot provides an alternative host connection. It does not necessarily disable the USB port, but in the case of the Pro Tools interface MDIO-PTHDX, the USB port is switched off when the Pro Tools interface is to be used.
Currently, only the MDIO-PTHDX expansion card is available. Others may be produced later.
Flexible Inputs and Outputs

Our customers told us that many professional users wanted a highly integrated solution with instrument and microphone inputs, and line outputs that could be used for stereo or multi-channel monitoring and/or foldback to performers. Atlas offers eight analogue recording channels, eight monitoring outputs, stereo digital input and output on a phono connector plus concurrent optical digital I/O ports that can interface to S/PDIF or ADAT data formats, giving Atlas a maximum capability of 18 concurrent input and output channels plus stereo headphones.