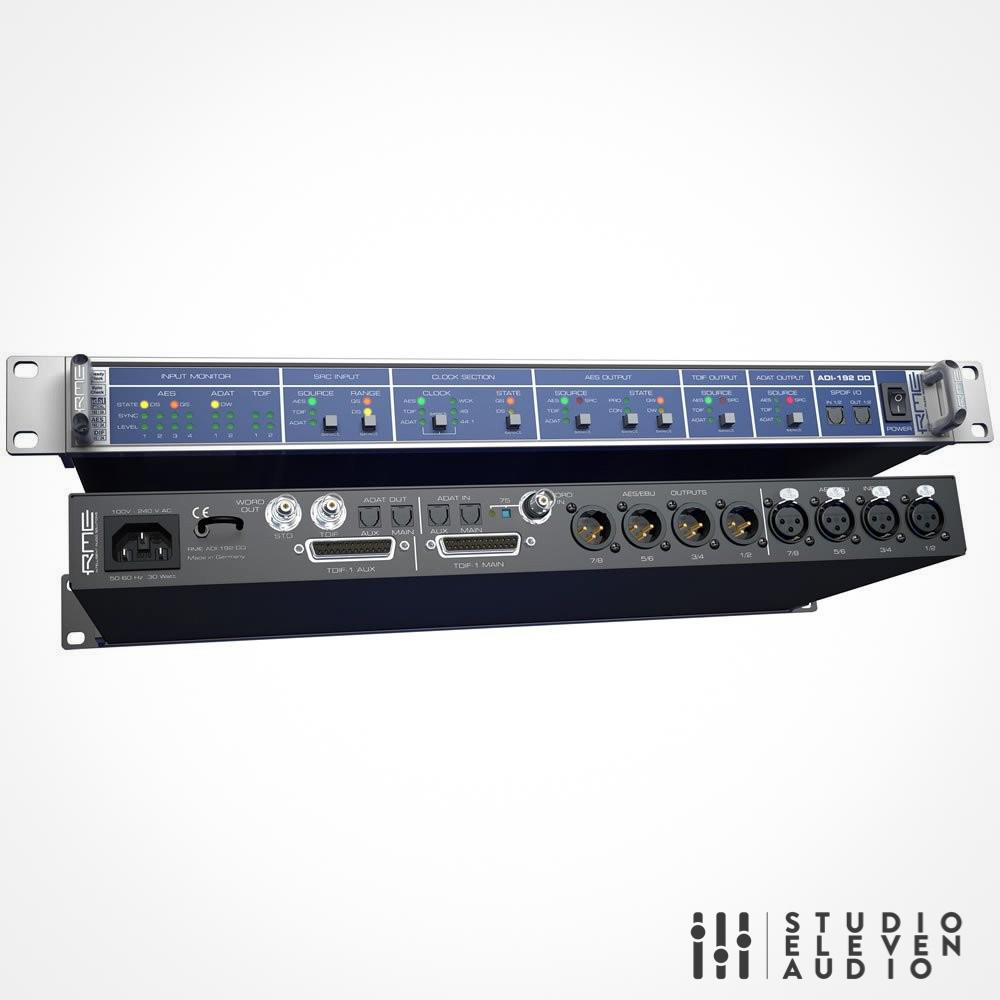 48 LEDs clearly display the current status of the incoming and outgoing signals and the processing performed within the unit. The SyncCheck technology known from other RME devices indicates whether the input signal is locked and whether all inputs are sychronized. The AES output signal can be given a consumer or professional status. The first AES output (channels 1/2) is also available as optical TOSLINK.
Professionals will love the fact that the ADI-192 DD supports Double Wire, Quad Wire, S/MUX and S/MUX4, making it compatible to all methods of increasing sample rates by sample multiplexing on all platforms. The unit can also convert between these formats, even along with SRC. If more than 8 channels are required, several units can be cascaded and synchronized sample-accurately by word clock.
The ADI-192 DD also features an automatic distribution mode. If only one of the four AES inputs is used, the device will copy these two channels to the other three AES outputs.
RMEs SteadyClock(TM) guarantees excellent clock quality in every situation. Due to the highly efficient jitter reduction, any clock signal can be improved and refreshed, and subsequently be used as reference clock at the word clock output. Intelligent Clock Control (ICC)   will retain the last valid sample frequency in case of a loss of the input signal. All settings are retained when the device is switched off.
Conclusion: The ADI-192 DD is the all-in-one solution for every application of format and sample rate conversion, from 2 to 8 channels. Its flexibility is unsurpassed and the price/performance ratio is simply sensational.
Connectivity
4 x AES/EBU I/O (XLR)
2 x ADAT I/O (optical)
2 x TDIF I/O (D-sub)
1 x SPIDIF I/O (optical)
1 x Word Clock I/O
RME ADI-192 DD
RME-ADI-192-DD