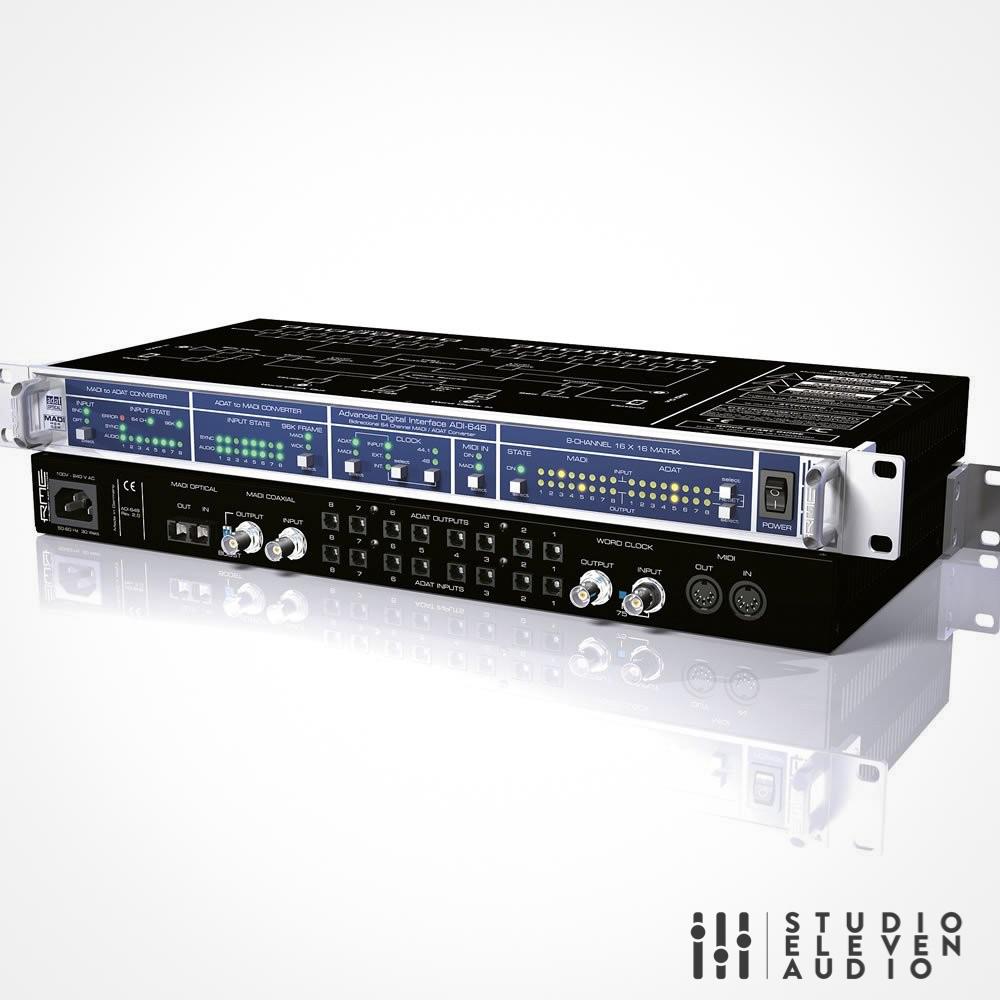 Features
SyncAlign ® and SyncCheck ®, technologies known from and proven by other RME products, allow for perfect sync between all channels and easy notification of error states. And of course multiple devices can be cascaded and synchronized sample-accurate using word clock. The ADI-648 accepts 56 channels, 64 channels and 96k frame at its input, and can be set to generate those formats at its output. This way the ADI-648 even serves as perfect interface between otherwise incompatible MADI devices!
The compact device with 19" width and 1HU has numerous further outstanding features, like Intelligent Clock Control (ICC)   and storing of the settings. It's even possible to transmit 16 MIDI channels in parallel to all 64 audio channels. A fully automatic input selection between optical and coaxial input offers a useful redundancy mode for critical applications. Extensive status displays give information about Lock and Sync states, audio content and the physical quality of the incoming signal.
Talking about clock: The ADI-648 includes SteadyClock(TM), a digitally controlled clock, especially developed by RME for MADI operation. It allows for operation without an additional word or AES clock line. The reference clock is extracted in highest quality from the MADI signal itself.
The rear of the ADI-648 looks clear and tidy. Eight ADAT optical inputs and outputs each, two MADI inputs and outputs each (coaxial, optical), word clock I/O (BNC) with switchable termination, and two DIN MIDI jacks offer unbeatable flexibility and compatibility.
The ADI-648 is compatible to MADI interfaces of companies like Sony, Merging, Lawo, Euphonix, Stagetec, Jünger, Audio Service, AMS and others.
Remote Control
The ADI-648 can be remote controlled completely via MIDI. Also all controls and LEDs on the front plate - the complete status - can be read via MIDI. Each ADI-648 can be programmed with its own ID, providing a separated remote control of multiple devices via a single MIDI channel.
The Windows software MIDI Remote can be downloaded for free from the RME website. It can use any existing MIDI port within the system to perform remote control and status requests of all ADI-648 via a simple mouse click. The software provides both a front-panel like operation (see above) and an extended Matrix display. Most appealing is the combination with a Hammerfall DSP(e) MADI, offering a direct control of the ADI-648 via MADI. The remote control software then uses a virtual MIDI port of the card that directly sends and receives MIDI data via MADI.