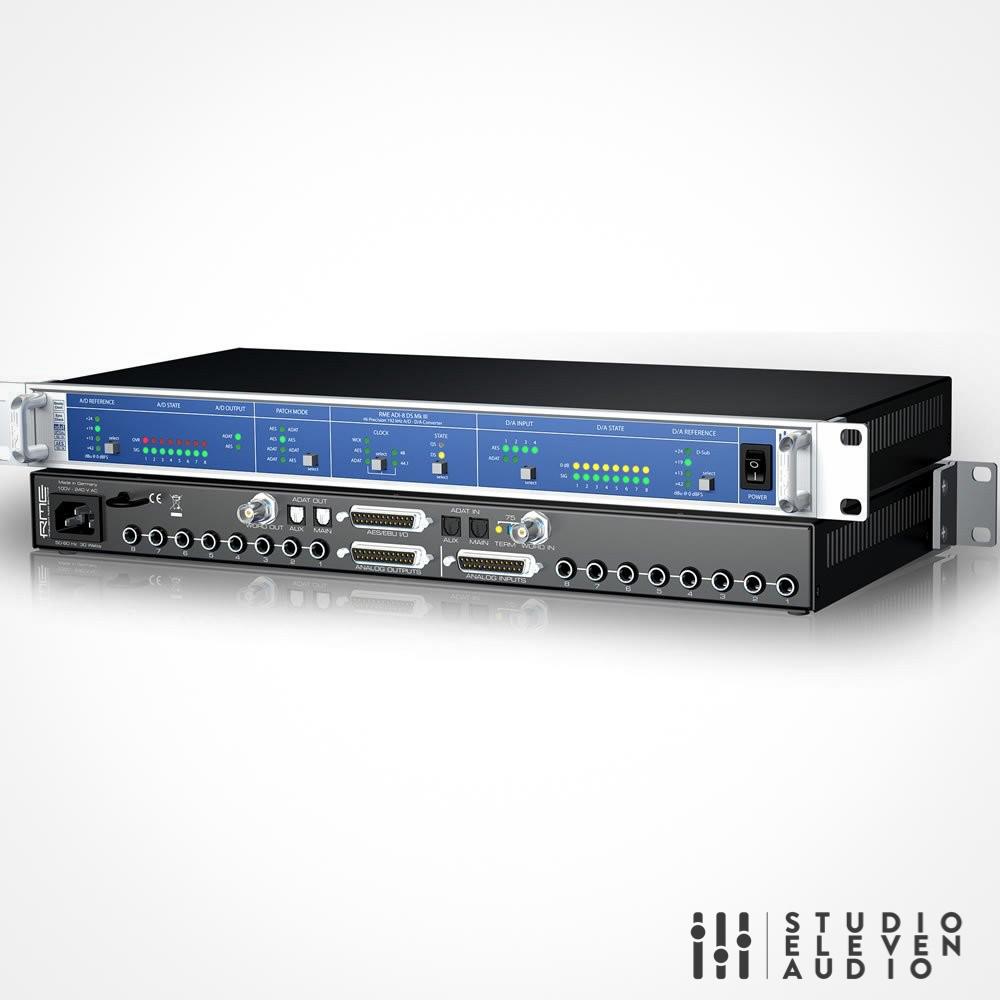 Features
The ADI-8 DS Mk III is a highly flexible 8-channel AD/DA converter and digital to digital format converter with an unrivalled bunch of features. The device combines excellent analog circuit design with outstanding low latency AD/DA converter chips. Along with SteadyClock™, the DS offers AD and DA conversion of the highest quality, redefining the reference class of analog/digital converters.
The compact 1U device provides a host of extraordinary features, including 4 hardware reference levels up to +24 dBu, AES/EBU and ADAT I/O up to 192 kHz, and a comprehensive Patch Mode.
The ADI-8 DS Mk III uses a completely symmetrical signal path, that guarantees an exceptional sound quality, outstanding low distortion and highest Signal to Noise ratio in all level settings. To maintain the full dynamic range within all operating levels the ADI-8 DS Mk III uses discrete gain stages which are switched electronically, so that no additional noise or distortion is introduced into the audio path. Sophisticated AD/DA converters provide samplerates up to 192 kHz with a SNR of 120 dBA. On the digital side, SteadyClockTM, RME's unique clock technology and jitter suppression, further enhances the list of features, ensuring the best sound quality regardless of the quality of the reference clock signal.
Of course other typical RME features such as Intelligent Clock Control (ICC), SyncCheck ™, SyncAlign ™ have also been implemented. 
The specially developed internal high performance switching power supply provides operation with voltages ranging from 100 to 240 AC Volts. It is short-circuit proof, has an integrated line filter, is fully regulated against voltage fluctuations, and suppresses mains interference.
Analog Outputs. The ADI-8 DS Mk III has separated driver stages for the TRS and D-sub outputs. The servo-balanced TRS jacks will work up to +21 dBu. When selecting +24 dBu the balanced D-sub connector outputs will provide the higher output level while TRS stays at +19 dBu.
2 ADAT I/Os support up to 8 channels at 96 kHz (S/MUX) and 4 channels at 192 kHz (S/MUX4). A 25-pin AES/EBU interface features 8 channels at 192 kHz. All outputs can be used simultaneously, i.e.: analog (balanced TRS and/or D-sub), ADAT, AES/EBU.
Analog Inputs. The ADI-8 DS Mk III provides inputs via TRS or D-sub connectors. Both operate servo-balanced and accept levels up to +24 dBu.
Digital Patch Mode. A digital patchbay with free choice of source and destination setup can be used to convert ADAT to AES, AES to ADAT, cross-convert them at the same time, pass ADAT on to ADAT while monitored analog, and many more. The ADAT outputs also feature copy mode for connection of two different ADAT devices. These powerful and easy to use modes add significant value to the already outstanding conversion quality.
RME ADI-8 DS Mk III
RME-ADI-8-DS-MKIII
Connectivity
8 x Analog I/O (up to +24 dBu)
4 x AES/EBU I/O (8 channels @ 192 kHz)
2 x ADAT I/O (SMUX and SMUX4)
Word Clock I/O