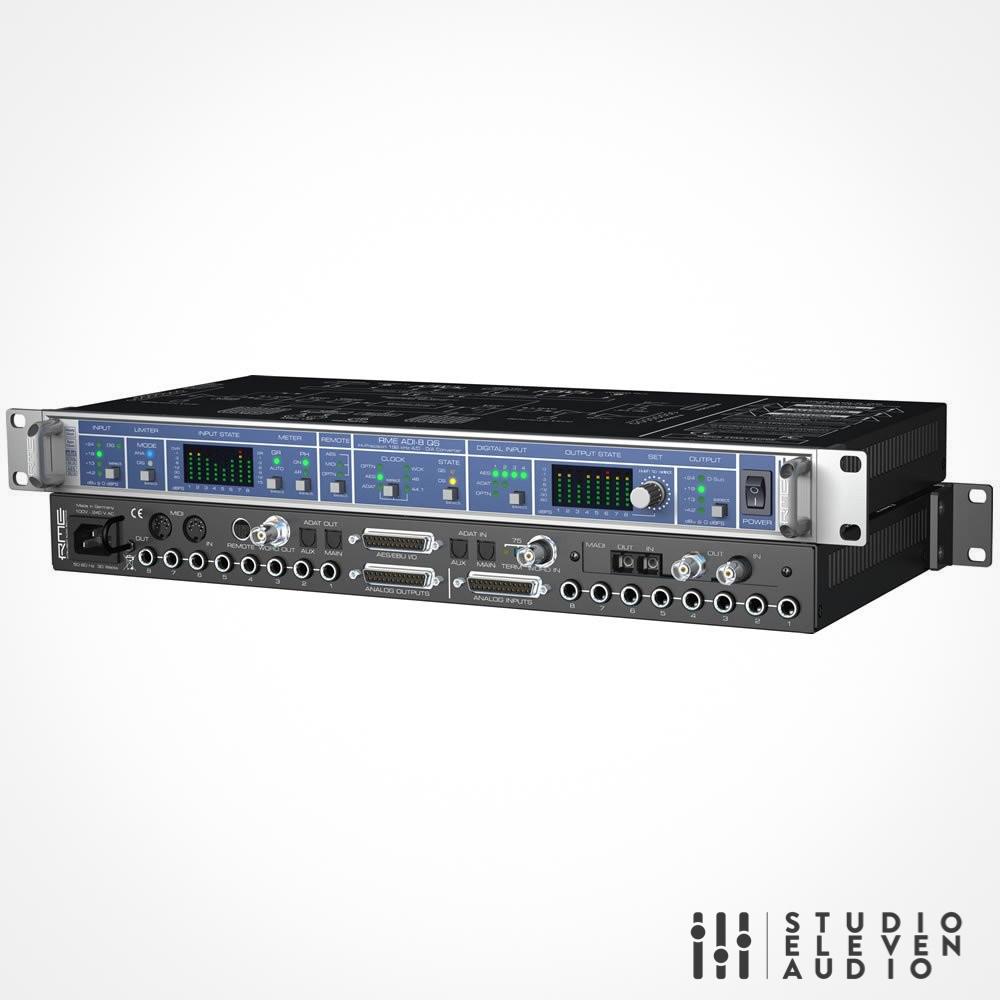 Features
The 1 U height device offers an outstanding AD/DA conversion from/to AES/EBU and ADAT (MADI optional), at up to 192 kHz. The balanced inputs and outputs use RMEs circuit design, therefore guarantee outstanding noise and distortion values. Four different input and output levels each are available, offering a perfect adaptation to the analog domain. The latest generation AD/DA converters provide samplerates up to 192 kHz with a SNR of 120 dBA.
Due to its efficient jitter reduction, SteadyClock(TM) guarantees pristine sound quality independently from the quality of the external clock signal. Additionally Intelligent Clock Control (ICC) will retain the last valid sample frequency in case of a loss of the input signal.
The technologies known from other RME products like SyncCheck ® ensure perfect synchronization and clear detection of errors. Multiple units can be stacked and operated sample-aligned, using word clock. All settings are stored when the unit is switched off.
The QS can be fully remote controlled and configured via MIDI, and all status displays can be queried through MIDI. Each QS can be given a separate ID, allowing separate remote controllability of various devices with only one MIDI channel.
Low Latency
In the QS RME uses a high-class AD converter from Cirrus Logic, offering exceptional Signal to Noise and distortion figures. But the biggest difference to all other ADCs out there is its innovative digital filter, achieving for the first time a delay of only 12 samples in Single Speed (0.25 ms), 9 samples in Double Speed (0.09 ms), and 5 (!) samples in Quad Speed (0.026 ms).
These values are less than a quarter of those available from even much more expensive devices. They represent an important step in further reducing the latency in the computer-based recording studio. At DS and QS the added latency can simply be ignored. The DA-converter offers similar conversion in the range of 5 to 10 samples, turning analog digital monitoring into real analog-style monitoring!
Optional: I64 MADI Card
The I64 MADI Card extends the QS with a 64-Channel MADI input and output and a sophisticated digital patch mode.
The card has an optical and a coaxial MADI input, which is switched automatically according to where a valid input signal is detected. This ensures full redundancy by immediately changing to the other input in case of signal loss. Coaxial and optical output operate in parallel, delivering the same data.
MADI can be used as an optional clock source (Clock section, OPTN), as signal source of the DA-converter, target of the AD-converter, and as digital thru. Since each QS converts only 8 channels, up to 56 channels can be passed through. This technique is used to serially cascade several QS converters. Incoming MADI data is passed through unchanged, only one block of eight channels is replaced. This allows up to 8 devices to be connected serially, with all 64 combined channels available at the last device's MADI output. When multiple devices are connected serially, the function Delay Compensationremoves sample offsets between the units.
The QS can also be remote controlled via MADI, and send/receive MIDI data via MADI.
Additionally the i64 card enables a digital patch mode, that allows free routing of all I/Os based on blocks of 8 channels (needs i64 MADI card with Sync LEDs and firmware 3.x or up). In this mode, the 8 analog channels, AES, ADAT input 1 and 2, and 8 x MADI are available as input sources for the same number of outputs. The unit then works as digital format converter, rebuilds a MADI signal from various sources, inserts, converts and much more at the same time. Please read the QS manual for more detailed information.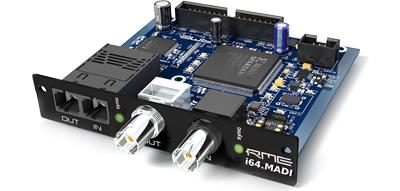 RME ADI-8 QS
RME-ADI-8-QS