RME ARC USB - Advanced Remote Control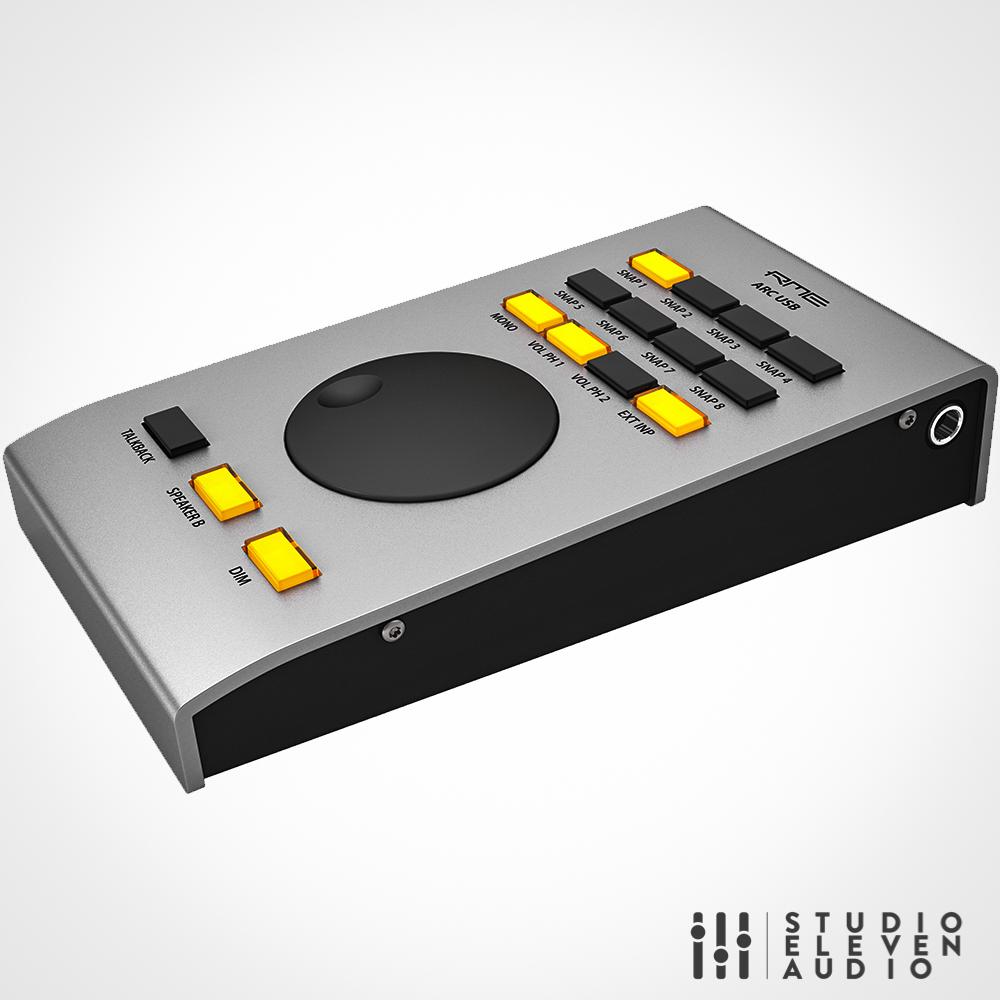 Features
The lower three keys have a useful diagnostic functionality. Talkback: is lit dim as soon as the ARC USB is running on 5 V USB bus power. Speaker B: is lit dim as soon as a USB communication is possible. DIM: is lit dim as soon as a communication with TotalMix FX is established. Therefore in normal operation all three lower keys are lit dim constantly.


ARC USB and UFX+ / UFX II in Stand-Alone Mode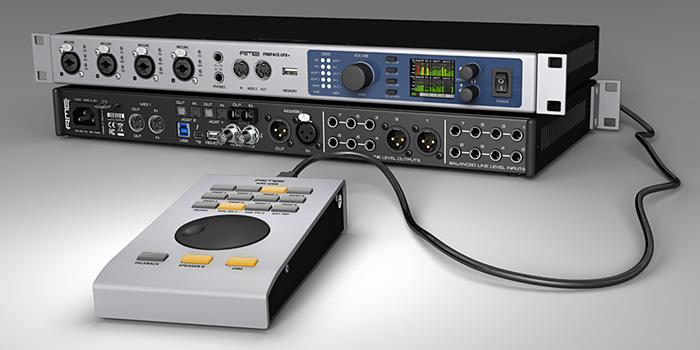 In stand-alone mode of Fireface UFX+ / UFX II a fixed set of functions is activated on the keys:
Row 1: Setup 1-4
Row 2: Setup 5-6 x x
Row 3: Mono, Volume Phones 1, Volume Phones 2, DIM
Lower keys: DURec: Rec, Play/Pause, Stop
x = no function
The included stickers also offer the stand-alone layout.
In the UFX+ / UFX II display's menu the way of operating the ARC USB can be configured for stand-alone mode. Those options are found under SETUP/REV, Options, Hardware/Diagnosis:
Standalone ARC Volume
Deactivates all keys. Only the encoder wheel works, with a fixed assignment to Main Volume.
This option is also a safety function in case the ARC USB is connected to the UFX+ / UFX II, but oper-ated online (with computer). When the system goes offline (computer removed, sleep state…) the functions on the keys change, because online mode changed to stand-alone mode. Operating the keys then could activate unintended functionality or changes.
Standalone ARC 1 s op
Each key has to be pressed for one second to activate the programmed functionality. This safety function prevents unintentional changes. It can be stored within the Setups, activating this mode automatically when such a Setup is loaded. When loading a Setup where this function had not been active this mode is automatically deactivated at the UFX+ / UFX II.
RME ARC USB - Advanced Remote Control
RME-ARC-USB
The ARC USB comes with a standard set of Key Commands that already cover most usage scenarios, printed directly beneath the keys:
Row 1 and 2: activating Snapshots 1 to 8.
Row 3: Mono, Volume Phones 1, Volume Phones 2, External Input
Lower keys: Talkback, Speaker B, Dim.
A set of stickers with all currently available TotalMix FX commands is included. These can be used to label all keys reflecting the current user configuration.
The rotary encoder wheel is used to change various parameters, like gain and volume. It is pro-grammable in TotalMix FX as well.
Configuration of the ARC USB
The Advanced Remote Control is configured in the Options menu via the Key Commands dialog of TotalMix FX, tab ARC USB Settings. As the ARC does not have any memory, all configuration and storage is done via TotalMix FX. All settings of the ARC USB are stored within a Workspace, and are therefore identical in all Snapshots of that current Workspace. 
More than 36 different commands can be assigned to the 15 keys. The behaviour of each individual button can be changed between push, toggle, enable and disable, depending on the base function. 
Current list of available functions:
- No Funktion
- Global Mute
- Global Solo
- Mute Group 1 to 4
- Solo Group 1 to 4- Fader Group 1 to 4- Link Main AB
- Speaker B Select
- DIM (Main Out)
- Mute (Main Out)
- Mute FX (Main Out)
- Mono (Main Out)
- Talkback
- External Input
- Reverb
- Echo
- Cue Phones 1 to 4
- Snapshot 1 to 8
- Layout Preset 1 to 8
- Volume Main
- Volume Phones 1 to 4
- Mic Gain 1, Mic Gain 2, Mic Gain 1+2
- Inst. Gain 3, Inst. Gain 4, Inst. Gain 3+4
- Mic/Inst. Gain 9, Mic/Inst. Gain 10, Mic/Inst. Gain 9+10
- Mic/Inst. Gain 11, Mic/Inst. Gain 12, Mic/Inst. Gain 11+12
Some commands are not available at certain interfaces, or slightly changed due to different functionality. Fireface UFX, UFX II and UFX+ have additional commands for DURec: Record, Play and Stop.
Several functions can be activated at the same time. Example: Button 1 is set to Cue Phones 1. That means the phones submix is heard via the Main output (the studio monitors). To be able to also change the volume of the phones submix itself, set button 2 to Volume Phones 1. Activating both will allow you to listen to the phones submix via the main output, and also to change its volume (the fader in the third row) by turning the encoder knob.
A standard footswitch (with switch, sustain pedals with pot are not supported) can be connected to the 1/4" TS jack on the left side. In Key Commands Settings the same options are available for the footswitch as for the 15 keys.