Rupert Neve Designs Portico 5043 Compressor-Limiter Duo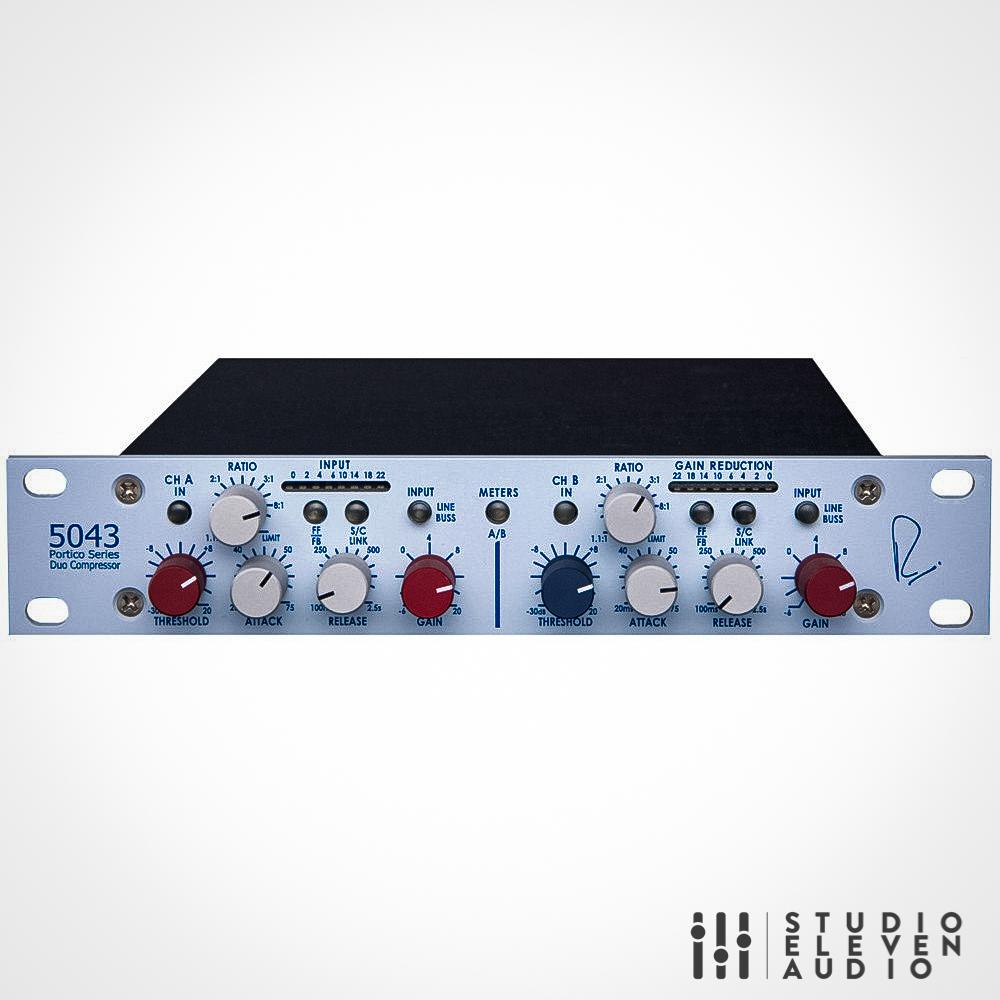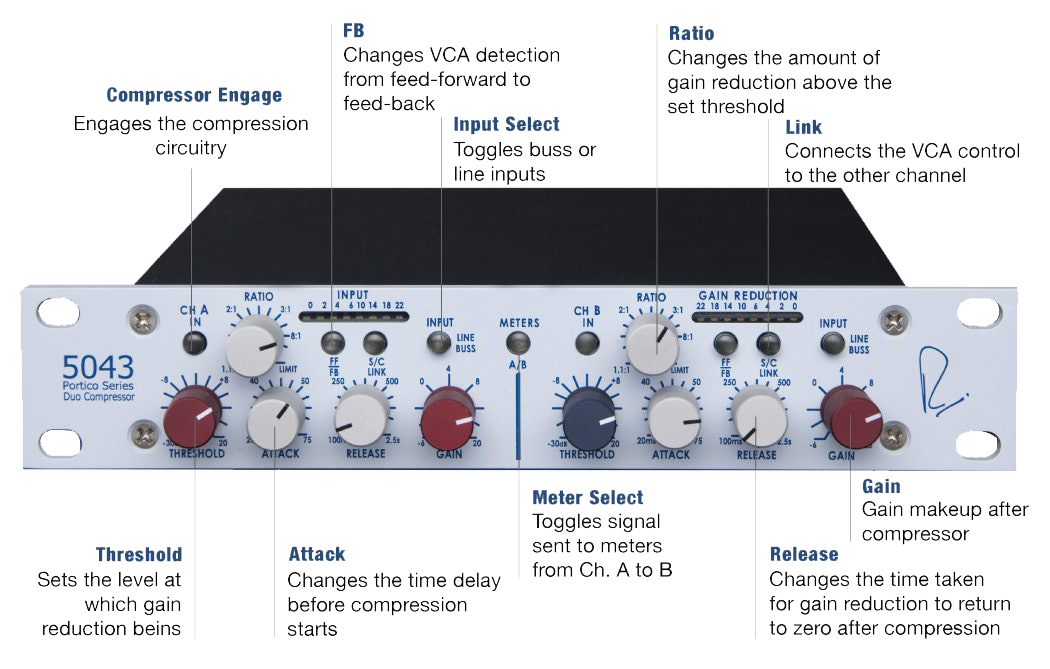 Compression
For signals below the "threshold" level that has been set, a compressor provides a linear path allowing signals to be amplified without the gain being adjusted in any way. When signals exceed the "threshold" level, the gain is reduced in a controlled manner that depends on the Ratio that has been set.
Gain
GAIN range provided is from -6dB to +20 dB. ?As already noted, when compression has taken place, it may be necessary to increase the overall gain to restore the apparent program level
Ratio
Range from 1:1 to LIMIT (i.e. 40:1)
Threshold
Range from -30dBu to +20dBU
Attack Time
Range from 20 mS to 75 mS.
Release / Recovery Time
Range of RELEASE time is 100 mS to 2.5 Seconds.
Stereo Operation
When the LINK Push-Button is engaged on both channels and the two channels, A and B, set to approximately the same values, GAIN control on both channels will be the same to preserve Stereo balance, levels normally being controlled by the channel with the higher signal level.
Composite Operation
Cascading the two independent sections of the Portico 5043 Compressor- Limiter provides extremely powerful and comprehensive control of Dynamic Range.
When an external audio connection is made from the output of one channel to the input of the other, the overall compression characteristics become a composite of the two. For example, Channel A may be set up as a Low Ratio compressor and Channel B may be set up as a High Ratio Compressor or Limiter, to produce powerful composite characteristics:
Ducking
When the LINK Push-Button is engaged, the signal passing through, channel A, may be used to control the amplitude of channel B. For example, the level of music through channel A can be controlled by speech on channel B, i.e. reducing the music level to make a "speech-over" announcement.
Meters
Two Peak LED METERS are provided that show OUTPUT LEVEL and GAIN REDUCTION. These are switched between Channel A and Channel B on the central METER SELECT Push Button.
Output level meter covers the range from -10 to +22 dBu and above which is regarded as overload.
REDUCTION is calibrated in dB covering the range +1 to 22 dBu, reading from right to left,
When used in sequence, the Portico 5043 can be configured easily to provide dual slope compression and limiting as suggested in the graphs below.
Rupert Neve Designs Portico 5043 Compressor-Limiter Duo
RUPNEVE5043