Rupert Neve Designs Portico 5045 Primary Source Enhancer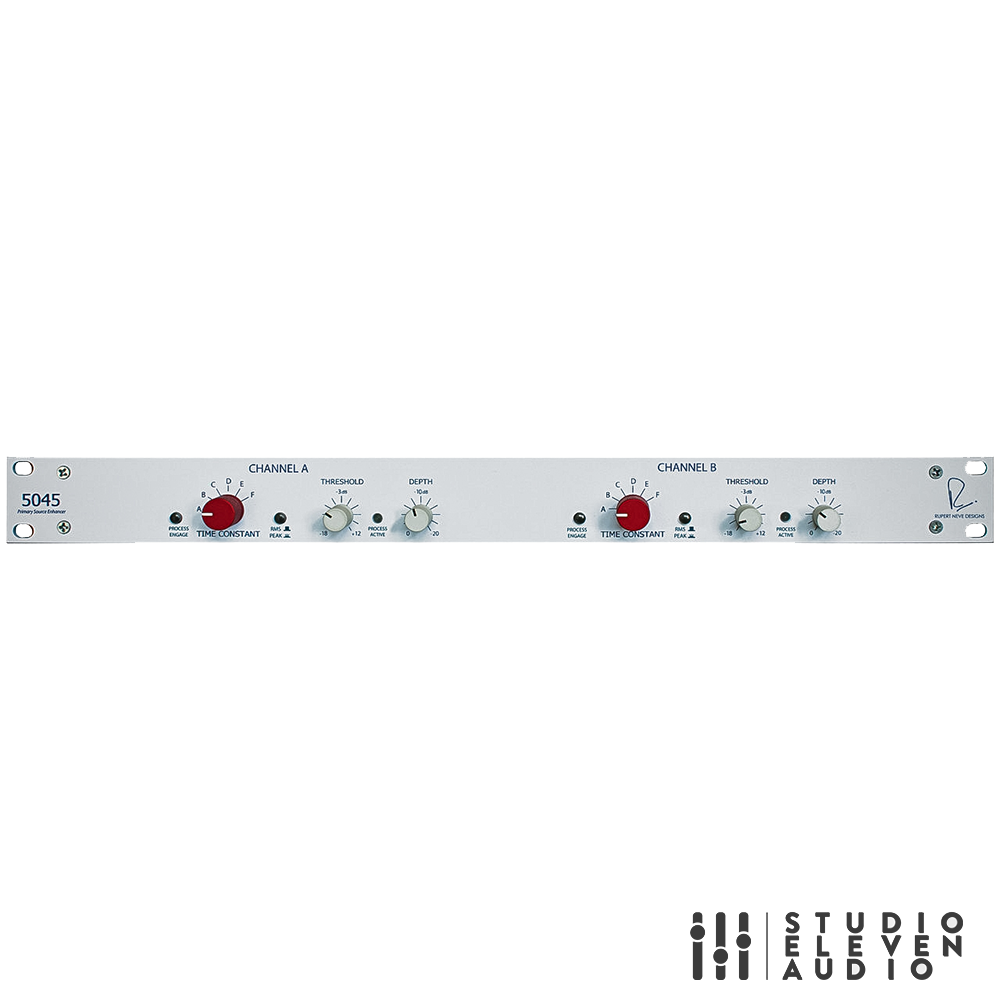 The Time Constant Control
The "TIME CONSTANT" control is designed to help prevent choppiness in some situations and stop feedback in other situations. It mostly sets how quickly the attenuation occurs in the quiet sections between words or sentences. "A" is the fastest and "F" is the slowest. "A" will quickly soften the level which can be advantageous when the singer is consistent and feedback howl is challenging. "F" is the safest in terms of slowly fading down, but might be a bit slow fading up again, and might be a bit slow for controlling some pesky feedback situations. "C" and "D" are moderate settings that should fit many situations and generally fade down slow enough so that the ends of words are not affected, yet fast enough to control feedback. Choose the most appropriate time constant that doesn't soften the beginnings and endings of phrases, yet still diminishes the feedback and "boominess" of the signal.
The RMS/PEAK Switch
Similarly, the "RMS/PEAK" button allows some finessing of the timing of the 5045. With the "PEAK" button pushed in, the 5045 will return to normal level from attenuation very rapidly. This may help prevent the beginnings of some words from being cut off. (It also opens the door for some creative dynamics-shaping if one uses the 5045 on musical instruments.) With the button set to "RMS", the 5045 will behave moderately slower, but with a greater deal of perceived "musicality". In this mode, it is relying on the "average" signal level rather than merely the loudest and briefest peaks.

All Analogue Design
The 5045 is built around Rupert's custom transformers and doesn't introduce filtering and digital processing. The result of these analogue circuits is sonic performance that retains the integrity of the source material.
Simplified Controls
With a minimal control set and little reason to change settings, the 5045's simplified use makes it ideal for environments without a full time engineer.
Depth
Sets how much attenuation is applied after the signal falls below where the "Threshold" is set. "0" implies zero attenuation and the 5045 won't effect the signal gain.
Threshold
Sets the level at which the PSE engages
Time Constant
Sets how quickly the attenuation occurs
RMS / Peak
With the "RMS/PEAK" button pushed in, the 5045 tends to return to normal level from attenuation faster.
Rupert Neve Designs Portico 5045 Primary Source Enhancer
RUPNEVE5045