Rupert Neve Designs Shelford Channel Transformer Gain Mic Pre, Inductor EQ, Diode Bridge Compressor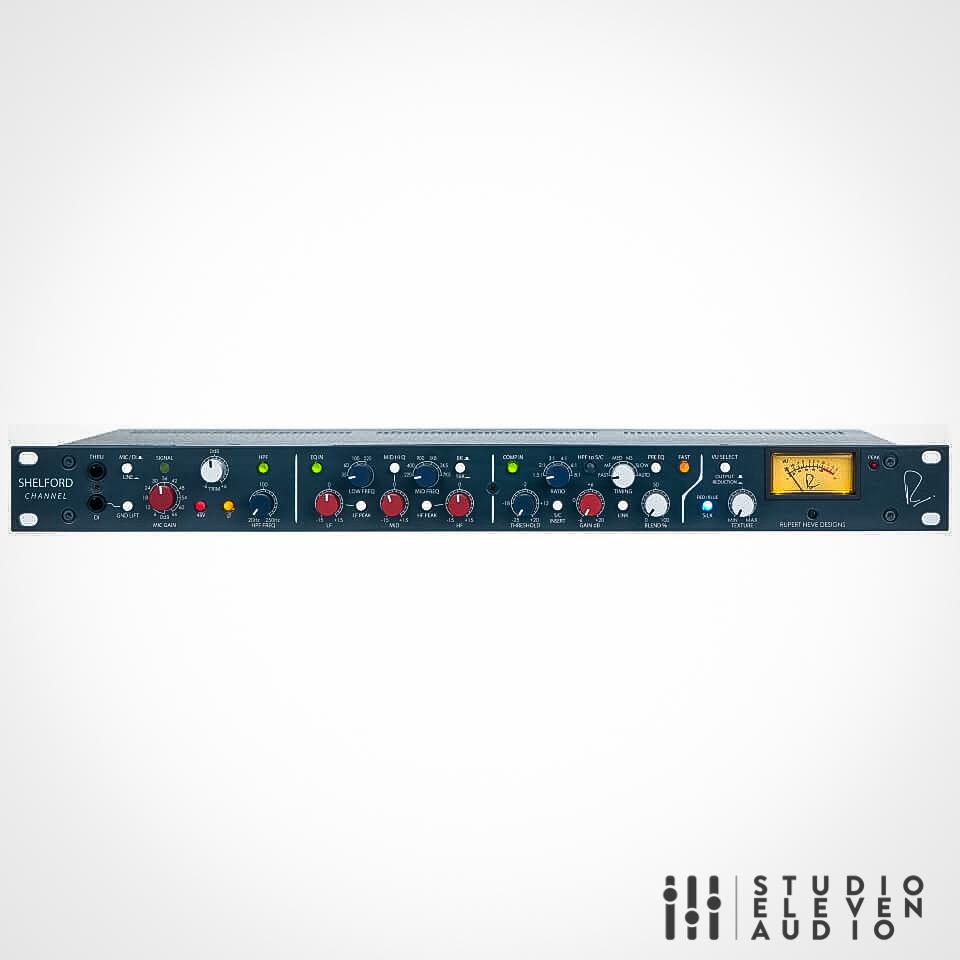 The Input Stage and Transformer Gain Mic Pre
Like Rupert's designs from his time in Little Shelford , the Shelford Channel's preamplifier uses a directly-coupled transformer input with gain provided by the custom transformer itself – a first in over 40 years for Rupert Neve. This new custom-designed input transformer, along with its careful integration with the surrounding circuitry, is critical to the Channel's bold and instantly recognizable character.
With this classic topology, the input transformer design is extraordinarily challenging, and the RN4012 transformer utilized in the Channel went through many generations before Mr. Rupert Neve was satisfied. This transformer provides the first 15dB of gain, with the rest of the 72dB of gain provided by the discrete, class-A amplifier blocks controlled by a stepped attenuator and precision trim pot. Whereas Rupert's more modern designs (e.g. the Portico Series) utilize a combination of TLAs (Transformer-Like Amplifiers) followed by an input transformer for pristine low & high frequency detail and galvanic isolation (see comparing input topologies notes), the Shelford Channel's design directly couples the input transformer to the microphone line. When this new transformer is combined with its surrounding class-A input amplifiers, the result is the unmistakably smooth high and low frequencies of the most famous vintage modules in the world, yet with incredibly low noise and superior isolation. The mic pre section also includes a sweepable 20-250Hz high-pass filter, Mic / Line selection, 48V phantom power, and polarity reverse.
The Dual Tap Transformer Output with Variable Silk
Similarly to the input stage, the new output stage is designed to provide the texture and power of Rupert's classics while allowing for significantly more versatility in tone.
The dual-tap output for the Channel's RN2042 square-core output transformer creates both high and low headroom outputs without compromising the channel's performance.  The high headroom tap is designed capture a more pristine sound at high levels, avoiding non-linear coloration of the output stage and taking full advantage of the Shelford's higher voltage design. The low headroom tap however is optimized to allow an engineer to drive the full voltage range of the Channel – adding  dynamic tone with these same non-linear "colorations" – without clipping most professional interfaces. On drums, vocals, guitars and other instruments, this output lets you easily hit the transformer's "sweet-spot" of non-linear harmonic content, which can bring a recorded performance to life in a way that other effects can't.
Rupert Neve Designs Shelford Channel Transformer Gain Mic Pre, Inductor EQ, Diode Bridge Compressor
RUPNEVESHELC