Prism Sound's newly updated flagship products.
Now utilising the Dante protocol developed by Audinate.
Our hands-on experience with the new PRISM SOUND Atlas with Dante MDIO Card

BASIC OVERVIEW
The Prism Titan features eight analogue input channels (four with mic preamps) and up to 10 digital inputs, plus eight analogue, 10 digital and dual-stereo headphone outputs. So that makes 18 simultaneous inputs to the host computer with 20 outputs, and a well-specified remote-controlled digital mixer within the Titan allows latency-free monitoring at any output pair from any combination of inputs.
The Prism Atlas offers eight analogue recording channels, eight monitoring outputs, stereo digital input and output on a phono connector plus concurrent optical digital I/O ports that can interface to S/PDIF or ADAT data formats, giving Atlas a maximum capability of 18 concurrent input and output channels plus stereo headphones.

HOW DOES IT HELP YOU?
DANTE connectivity on PRISM SOUND ATLAS & TITAN
Dante is becoming the de facto standard for audio over I/P and with Prism Sound enabling the Titan and Atlas to connect seamlessly to an existing Dante network or a new one brings their products right up to date with what is available on the current market.
At near-zero latency and unbelievable stability, Dante Networks can easily scale from a simple pairing of a console to a computer, to large capacity networks running thousands of audio channels. Because Dante uses logical routes instead of physical point-to-point connections, the network can be expanded and reconfigured at any time with just a few mouse clicks. Since audio is transmitted digitally, you don't have to worry about the common analogue challenges of interference from other electrical equipment, crosstalk between cables, or signal degradation over long cable runs.
One amazing feature with your new Dante setup is cross-compatibility with other hardware manufacturers. For example, you could be running a prism sound titan which has 4 preamps with 4 line inputs, this can be expanded through ADAT no problems but one of the other great things about Dante is adding Dante enabled Preamps to your network as well! For example, a Prism Sound Titan and a Rupert Neve Designs RMP-D8 would be a great solution for expanding the preamps.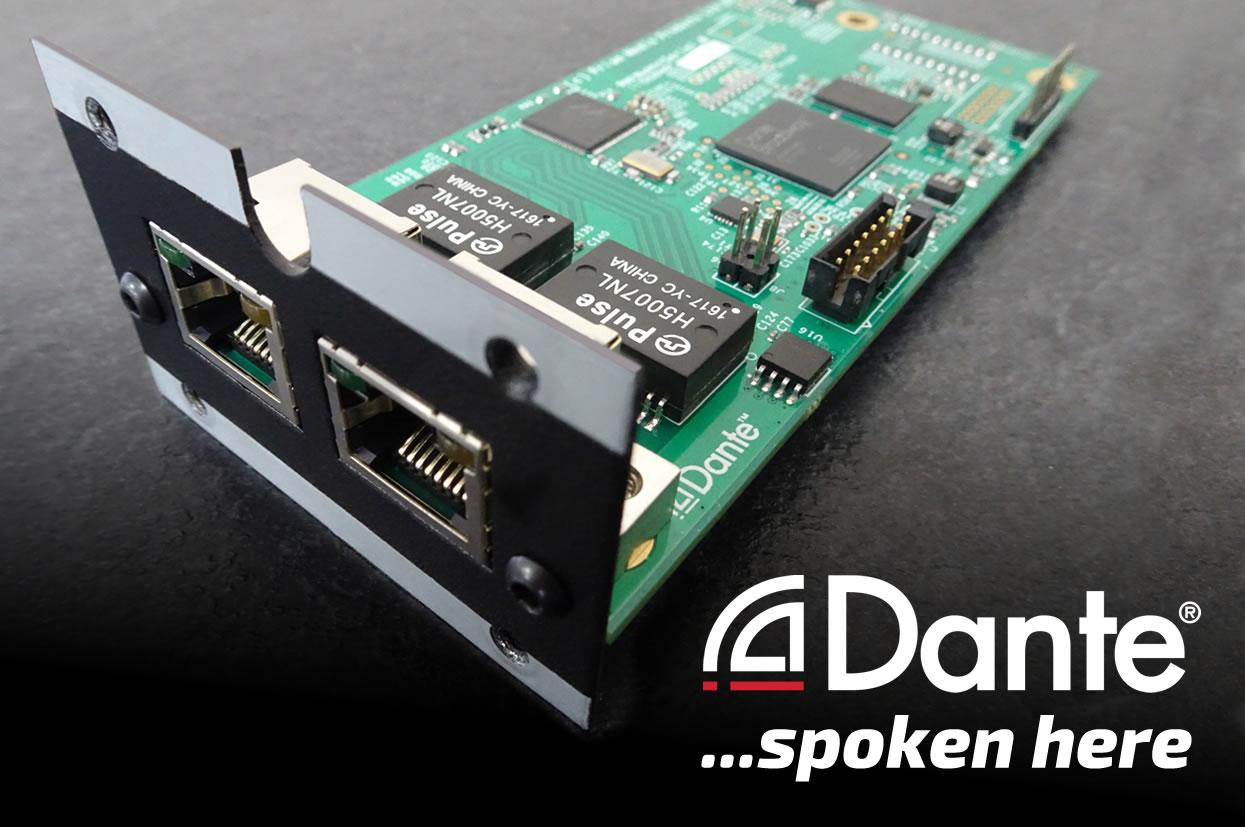 THE DANTE MDIO MODULE
The introduction of Prism Sound's Dante module extends the range of I/O options for Atlas and Titan which also includes an MDIO card option that provides a compatible connection for Pro Tools hardware.
Prism Sound has ensured that its new Dante card and software app can be used with all older units already in use!
Dante is becoming the de facto standard for audio over I/P and with Prism Sound enabling the Titan and Atlas to connect seamlessly to an existing Dante network or a new one brings their products right up to date with what is available on the current market.

UNBOXING & SETUP
We unboxed the Prism Sound Atlas (Video coming soon) and placed it on top of the rack in the studio, first port of call was getting power to the unit and plugging in an Cat5e (or Cat6) cable between the Atlas and our gigabit switch.
We already have a Dante network configured here, but the next step to new Dante users would be to visit the Audinate website to download the Dante Controller and the Dante Virtual Soundcard (DVS) Application.
When the Audinate software finished installing we used the USB Pen Drive that shipped with the Prism Atlas to install their latest Prism Sound Control Panel.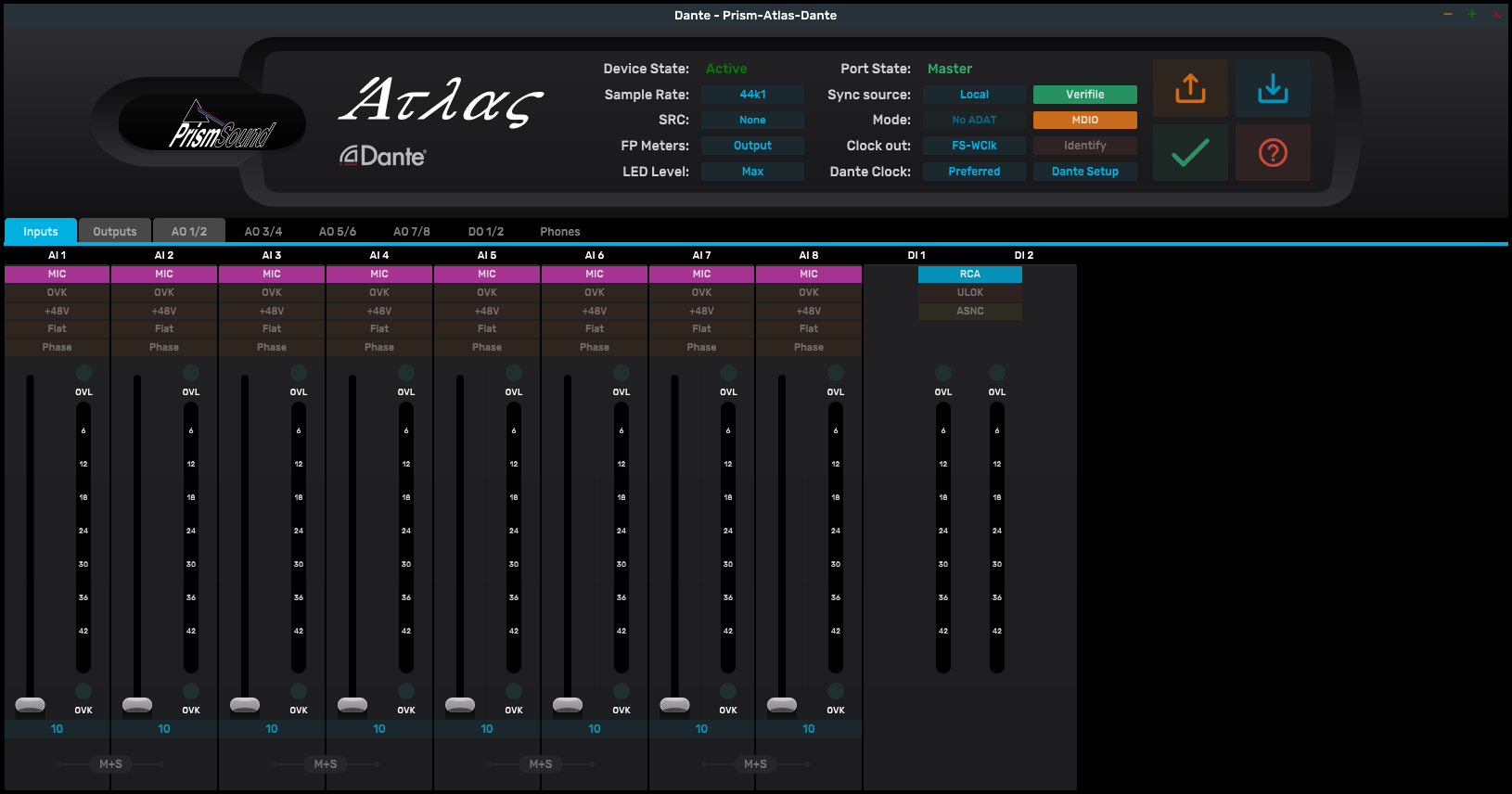 The new control panel was an absolute breath of fresh air, it no longer felt clunky and outdated.
Next, we routed the inputs and outputs between the Prism Sound Atlas / Titan and DVS (Dante Virtual Soundcard). It can look a bit daunting at first, but it is more simple than it looks.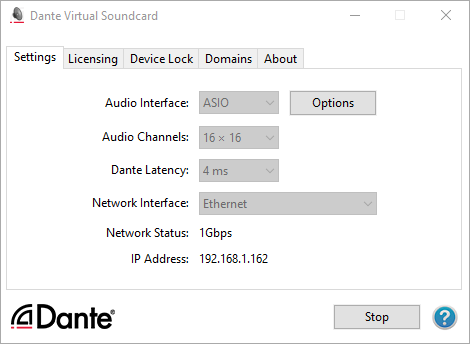 We opened the Dante Virtual Soundcard application, we would recommend running the settings in the image below. Don't worry about IP Addresses, this is set up automatically when the settings have been set to click the start button in the bottom right hand corner so that the DVS service starts.
We then had to route our Prism Sound Atlas I/O with the Dante Virtual Soundcard I/O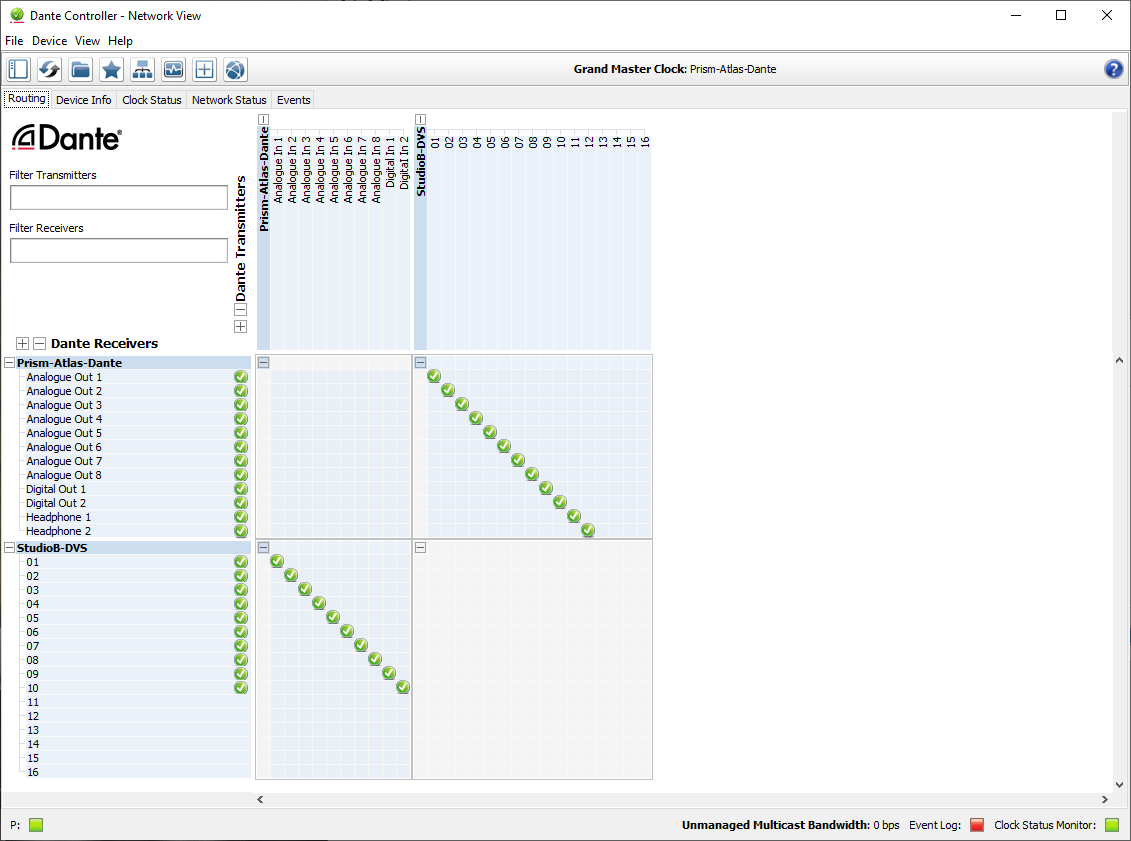 We opened the Dante Controller application. This is the part that looks confusing to the new user, but honestly, there is one thing to remember and it simplifies the whole process… Route Outputs of the Prism Sound Atlas / Titan to the Inputs of the Dante Virtual Soundcard, and outputs of the Dante Virtual Soundcard to the inputs of the Atlas / Titan
The final part of setting up was with our DAW (we use Pro Tools) to utilise the Dante Virtual Soundcard for I/O.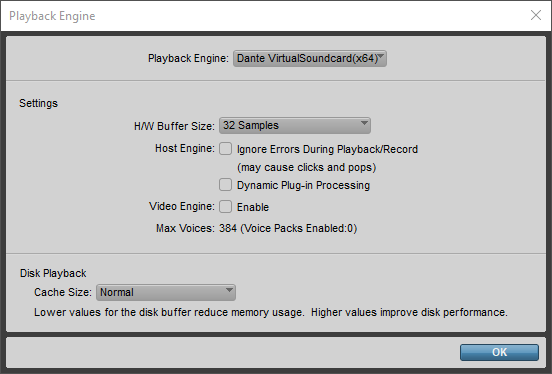 Above is our Pro Tools Settings, set the Playback Engine to 'Dante Virtual Soundcard' and set the Hardware Buffer Size to whatever works best for you.
After all this, we were ready to GO!

OUR HAND'S ON EXPERIENCE
We had completely lost track of time getting wrapped up in it all. It genuinely felt like Christmas! We were messing around with the new software and mixed a 53 channel Pro Tools session just to spend some time with the Dante enabled Atlas and before we knew it time had rolled around to 3 am.
We had no audio dropouts and no crashes, and genuinely try to fault find with all audio equipment but we can't find fault with this! we really tried! We even went to the extent of running Dante virtual soundcard on the PC in Studio B, opened up the Dante Controller application and seamlessly switched the Prism Atlas ins and outs to Studio B and loaded up the same session in Pro Tools and carried on from where we left off, to then switch back again after an hour so we could monitor through the PMC iB1s monitors in Studio A. We genuinely cannot fault the unit on stability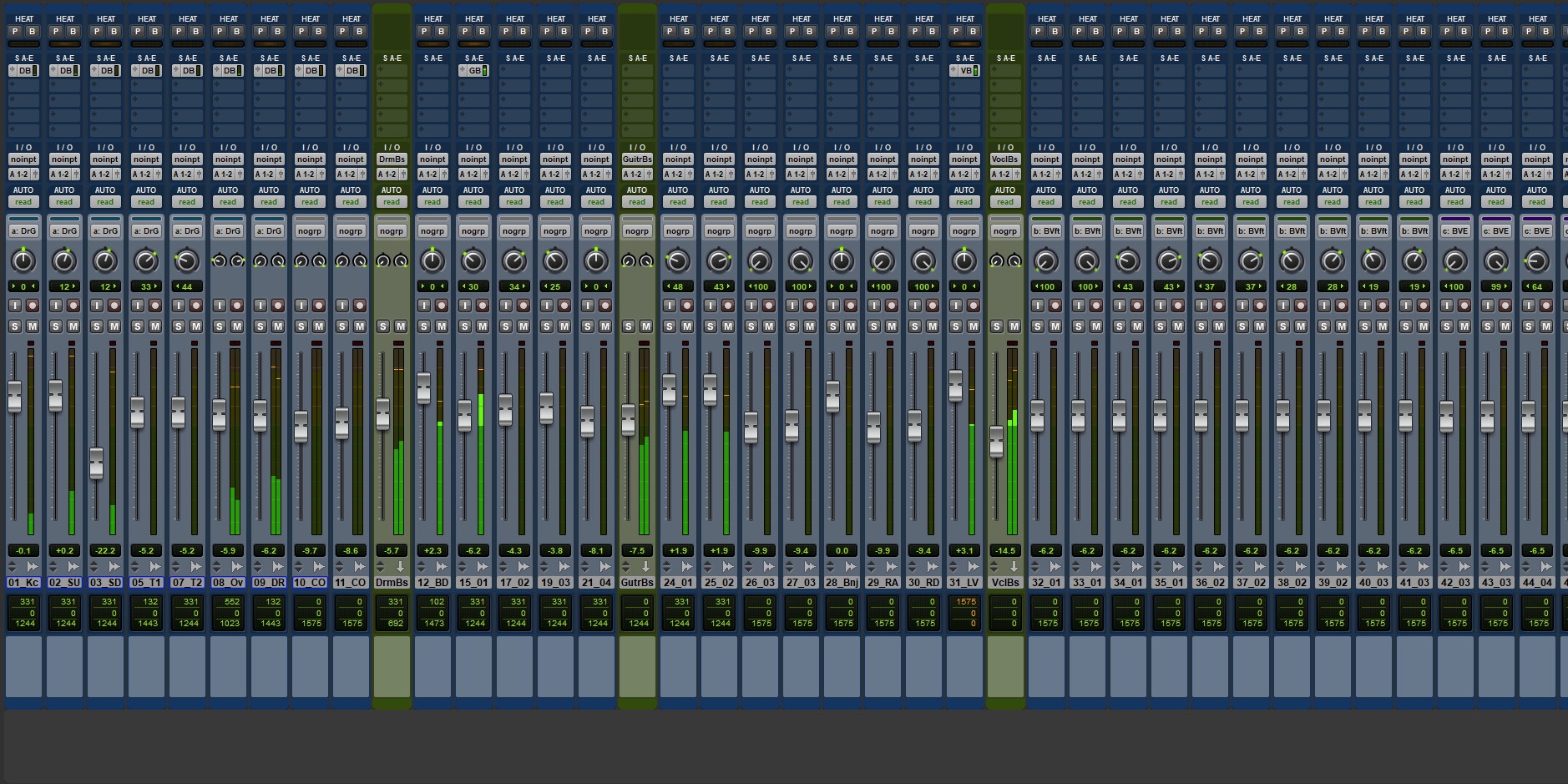 OUR CONCLUSION
Prism Sound are on to a winner here, everything is positive. Firstly let's look at current users... Those of you with a Titan or Atlas and are using it over USB will be able to upgrade your unit to reduce latency and even add on another unit (or more) if requiring more I/O by simply plugging in one ethernet cable into your gigabit switch. Yes this is possible through aggregate devices on a Mac and to be honest Prism Sound even made it possible to do this on a Windows machine, but the reliability of Dante being able to work at up to 192k with ultimate stability, in our opinion, is more stable and offers vastly reduced latency over aggregating devices.
For users with existing Dante networks looking at upgrading their converters can just swap out or add units with Prism Sound and enjoy ULTIMATE fidelity.
Dante is fast becoming the standard for Audio Over I/P. The AD/DA conversion in their units provide unrivalled clarity, stability, and the build quality is top-notch.
While we were using the unit we had no audio dropouts, ULTRA low latency, probably the best conversion in existence right now and a VERY simple easy to use software interface! Not only that but everything was up and running within 15 minutes!
Yes, Prism Sound products do have a hefty price tag, but this is well justified in support from the manufacture, build quality and above all else no colouration to sound.
10/10 to all the hardworking people at Prism Sound! You have smashed it out of the park by going down the DANTE route
THIS PRODUCT IS WIZARD GEAR