Dangerous Music Monitor ST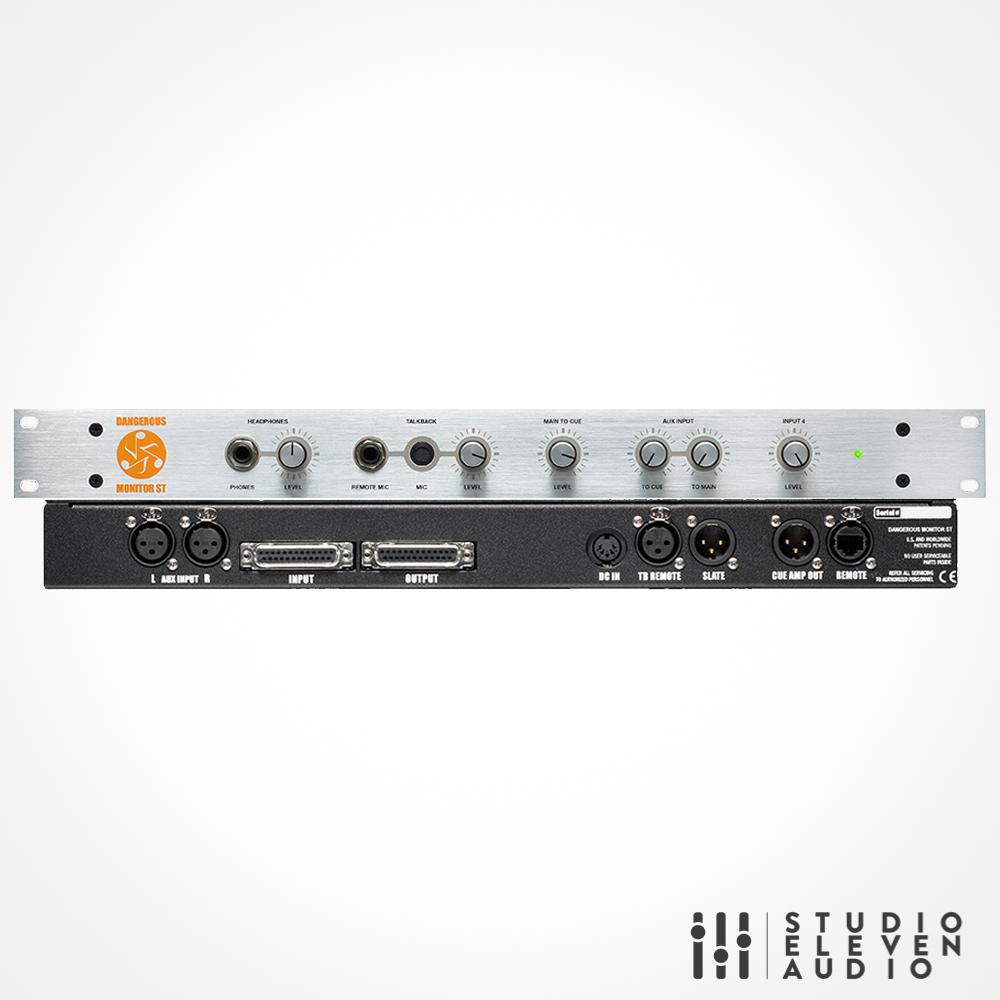 EFFORTLESS AND ELABORATE SIGNAL ROUTING
As the centerpiece of your studio, the MONITOR ST handles complex routing elegantly. There are four analog inputs, three speaker outputs, plus a stereo subwoofer output with programmable level offset and filter that can be assigned to any of the three speaker pairs (or used for a 4th pair of studio monitors). All of these ins and outs can be custom calibrated with onboard, programmable level offsets that you can recall instantly for different devices and configurations. Need to monitor a -10dBV commercial source like a CD player with levels perfectly matched? No problem. The on-board talkback mic, slate output and the robust 20w/channel headphone amplifier – which can receive the Main Mix or the Aux In for custom artist mixes – round out all the routing needs for any studio. And the Aux Input can be layered with any of the four main inputs, offering up even more routing solutions.
PROGRAMMABLE OFFSETS
Main monitors louder than your near-fields? No problem. Just switch between them and adjust the MONITOR ST's level offsets in Setup mode until they're matched, and then store. Now every time you switch between speakers they are matched for apparent loudness. You can do the same with the inputs, and with the Subwoofer Output, getting all of your studio's gear in perfect balance for seamless monitoring.
ELEGANT AND EFFICIENT REMOTE CONTROL
Stay in the sweet spot while managing every signal in your studio. the MONITOR ST's award-winning design is centered around an ergonomic, intuitive and indestructible remote control that hosts access to all of the MONITOR ST's features. Connected with a single shielded Cat-5 cable, this remote is equally at home on a desk or the armrest of a big console – wherever your listening sweet spot is. The illuminated switches give you instant visual feedback of all your settings, while the stepped volume knob triggers the audiophile-grade relays in the main unit. Get this remote under your hands to find out why the MONITOR ST has won a TEC Nomination, A Future Music Ace Award and was crowned a Certified Hit by Mix Magazine.
AN EXPANDABLE SYSTEM
Require 5.1, 7.1, 10.2 or greater? Just add the MONITOR SR to your ST system. The SR modules allow you to add as many channels as you need to handle all of your surround monitoring tasks, all with the world-class sound and control that the ST has to offer. And with the Dangerous Music CONVERT-2 you can connect the ST's remote and control a number of essential switching functions.
Dangerous Music Monitor ST
DANGMONST